Flow Sensor Products
---
Brass 1" Hall-Effect Flow Sensor
You can monitor your water usage with our flow sensors. This allows you to compute costs, and detect leaks in your watering systems. Using other Vegetronix agricultural building blocks, you can create complex systems to monitor your water usage, and receive texts and email alerts when your water usage is out of normal range.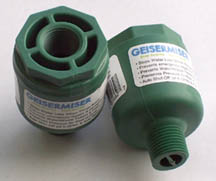 Geiser Miser: Sprinkler Auto Shutoff Valve
Broken sprinkler heads can cause flooding damage, geysers, and wasted water. The GeiserMiser instantly detects broken sprinkler heads, and stops water flow. It's very low cost, and will save you money.