Are Your Animals are Thirsty? Buy Now
Water Tank Monitoring Starter Kit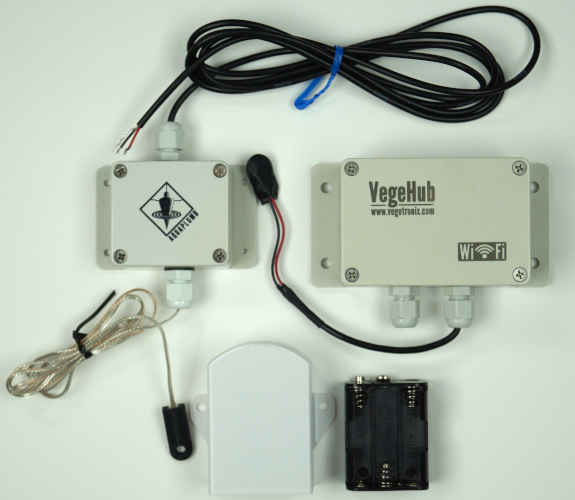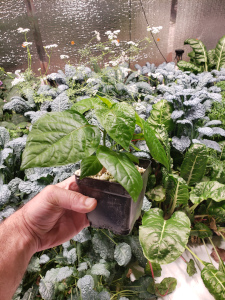 "The two Vegehub units I am using at my personal vegetable growing areas have not skipped a beat in two years. My highest respect to you for supplying a bulletproof product that is reliable and reasonably priced. As a bonus, I began tracking water usage via input volumes with Vegehub versus a digital timer schedule and I am saving 60% in nutrients and water."
Zach in Buckfield, ME
"So far I'm very impressed by Vegetronix products. I work in IoT professionally but don't have the time to put together my own microcontroller-based solution. You've solved all the critical IoT issues (TLS, low-energy, find out local IP address, send to cloud, etc) not to mention your magic soil moisture sensor. Everything I've tried so far (VegeHub and Air temp sensor) is simple and easy to use and worked on the first try. Well done."
Thomas in Redmond, WA
Water Tank Monitoring Starter Kit - Features
Works with many different type of fluids.
No moving parts.
Get email/text alerts of problems.
Battery operated, and optimized for long battery life.
Wireless distributed data gathering and control.
Made for expansion.
Water resistant enclosure.
Rugged design for long term use.
Simple setup using any web browser.
View data on your phone at VegeCloud.com our free cloud server.
Secure HTTPS connections using TLS1.2 Encryption.
Easy mounting with flanged boxes.
Low cost.
Proudly made in America.
Water Tank Monitoring Starter Kit - Applications
Livestock water tanks.
Flood and spill alarms.
Rain barrel monitoring.
Reservoir monitoring.
Environmental monitoring.
Water conservation applications.
Mechanical float replacement.
Electronic toilets.
Aquaponics.
Monitoring of Aquariums.
Crop Steering.
Water Tank Monitoring Starter Kit - Details
Our products are modular building blocks. You can put them together in different ways, and create different systems for vastly different applications. After setting up your first project, you'll have lots ideas of how you can use our products to automate your garden and your life.
We've curated this starter kit, to give you everything you need to get started monitoring water tanks and reservoirs. The kit includes are amazing AquaPlumb water level sensor, which measures water level with a length of wire.
Accurately measure the level of any fluid, including water, salt water, and oils.
Get email/text alerts when your water level passes thresholds which you specify.
This kit can be used to monitor livestock watering troughs, rain water barrels, aquaponics systems and any sort of reservoir. It also works as a leak detector. Loop the sensor wire around any basement drain to detect backed up water lines and avoid flooding.
If you would like to also control water levels, we can do that as well, just substitute our VegeHub-Relay for the 1 channel VegeHub included in this kit. (At checkout, you can substitute any parts.)
Water Tank Monitoring Starter Kit - Contents
| Quantity | Part Number | Description |
| --- | --- | --- |
| 1 | VG-HUB1 | WiFi VegeHub with 1 sensor inputs |
| 1 | APLUMB1-2M | AquaPlumb Liquid Level Sensor, 1m Sensor, 2m Power Cable |
| 1 | BH-AA-9V | Battery holder, 9V, 6 AA |
| 1 | BATTERY-BOX-6AA | Weather resistant battery boxes |
How the System Works
This kit will allow you to monitor a water tank or reservoir and receive notifications when your water level has reached a critical point.
The AquaPlumb determines the water level with a sensor wire, and outputs a proportional voltage. The VegeHub periodically powers up the AquaPlumb briefly, takes a reading, and then goes back to sleep. The VegeHub periodically sends all of it's data to VegeCloud.com our free cloud based server. VegeCloud allows you to visualize your data, and setup notifications.
Built-in Security For Your Sensors
Our products use TLS 1.2 SSL for secure Internet connections, allowing it to do secure HTTPS posts to servers. If you don't care about security, you can still post using regular HTTP.
The VegeHub comes with the most commonly used website certificates, or using our certificate tool, you can put on your own.
Designed for Long Battery Life
One of our primary design goals for our products is long battery life. You can place our VegeHub and Sprinkler Controller anywhere without worrying about power connection connections. Under normal use scenarios batteries will last over a year.
The VegeHub comes with a battery cable clip, suitable for standard 9V batteries. If you are using power from an adapter, you can replace the clip with your own wires.
For extended durations we recommend using a 9V AA battery pack with 6 AA batteries. We sell 9V AA battery holders. Use lithium batteries, rather than alkaline, if the location will get cold.
You can configure the VegHub to send it's battery voltage when it updates to the server, so that you can monitor its level.
Battery life depends on your sample frequency, and update rate. Most agricultural sensors change rather slowly, and so a sample rate of once per hour is often sufficient and will extend your battery life.
Make sure you don't put batteries inside the box, because it is air tight, the batteries will off gas acid in the heat corroding the components.
Fast and Easy Setup
You can configure the VegeHub and add it to your local WiFi network by using a browser on your phone or PC.
Once each device has connected to your network you can plug in a USB thumb drive, and it will write the IP address to a file. This IP address allows you to configure it through it's web interface.
To configure it, press a button, and it will become a mini web server on your network, and serve up configuration pages.
These pages allow you to select the cloud site to which you want the hub to report data. Each channel can be independently configured with multiple options. For example channels can be configured to sample data periodically or, can be trigger on an event. The sensor warm up time is configurable, as well as how often the hub reports to the server. If your sensor is just a push button switch you can configure the channel to have pull up or pull down resistors. See the Quick Start Guide for step by step instructions.
Rugged and Waterproof for Long Life in Harsh Conditions
You can put these boxes outside in the rain or snow. The rugged ABS plastic boxes have silicone rubber gaskets making them waterproof. All of the cable entry points use cable glands, so that no water or insects can get in.
The box has flanges and screw holes for easy mounting, so that you can put it anywhere.
Internally Stores Data When Internet is Down
If your Internet goes down - no problem. The Vegehub has an internal 64 sample storage for each sensor channel. The buffer is circular, so if the Internet goes down for tool long, such that the storage fills up before you can post the data to the server, the older samples will be overwritten.
Likewise the sprinkler controller will continue to run it's programs, with or without Internet.
Infinitely Expandable Modular Building Blocks
Our product philosophy is simple. We provide low-cost modular building blocks to our customers, and then let them come up with their own applications. You can start with a basic system, and then expand it as much as you need.
Get creative with our very unique sensors, WiFi Hubs, Relay Boards and come up with your own creations.
We Want you to be Happy
Ordering is easy and low risk. Since we build our own products at our factory, all of our products are in stock. When you place your order from our website, it will ship same day from our factory, and you'll have it in your hands in just a couple of days. We ship to nearly EVERY COUNTRY in the world.
If you aren't amazed and delighted by your new Stater Kit, return it for a refund within 30 days.
Sensing and Control Kit Pricing and Ordering Info
We ship to nearly EVERY COUNTRY on the planet, directly to you from our factory.
99% of orders ship same day.
Are you ready to get started monitoring water tanks and reservoirs. Click on this button, and it will add all of the parts you need for this kit into your shopping cart. Afterward you can add, delete and substitute parts from your cart to create the perfect solution.
Buy Now