VegeHub WiFi Sensor Hub Buy Now
Connect Sensors to the Internet in Minutes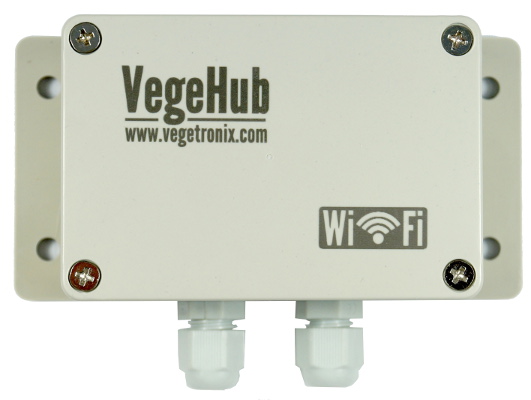 The VegeHub makes it easy to connect sensors to the Internet.
The hub consists of a configurable WiFi board enclosed in a water tight box, with cable glands. It is designed for low power operation, and can be powered by battery, solar cell, or line connected DC power supply. Depending on sensor current and sample rate, it can operate several years with a quad Lithium Ion AA battery back.
The VegeHub uses TLS 1.2 SSL for secure Internet connections, allowing it to do secure https posts to servers.
You can configure the VegeHub and add it to your local WiFi network by using a browser on your phone or PC. Once connected, you use a simple phone app to determine the IP address that your router has assigned it. With this IP adddress, you can access the device and set up options, such as the sample period, data upload interval, sensor warm-up time, and link it to a data server through a simple webpage interface.
The VegeHub will connect with websites such as VegeCloud or ThingSpeak, out of the box. These sites will graph your data, and allow you to create actions, such as send an email, when your sensor data has crossed a particular threshold. If you want to post to your own website, this is also possible, using our simple VegeHub API.
VegeHub WiFi Sensor Hub - Applications
Home automation.
Mailbox sensor system.
Door and gate sensor system.
Garden and farm automation.
Wireless sensor data gathering.
Wireless irrigation and sprinkler systems.
Environmental monitoring.
Water conservation.
VegeHub WiFi Sensor Hub - Features
Eliminates the need for long cable runs to sensors.
Secure HTTPS connections using TSL1.2 Encription.
Will post to regular HTTP connections.
Quickly display data on third party websites. VegeCloud.com, and ThingSpeak.
Configurable URL allows it to post data to any website.
Posts the device hostname to networks scanners, for easy configuration.
Long battery life.
Simple setup.
Water tight enclosure.
Easy to mount and compact.
Other Vegetronix Products of Interest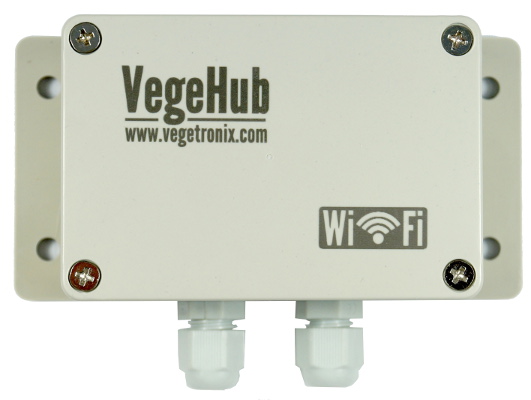 Pricing and Ordering Info
For volume pricing contact us.
ORDER INFO
Part Number
Description
Price
Purchase
VG-HUB1
VegeHub WiFi sensor hub with single sensor input.
$49.95
Buy Now
VG-HUB4
VegeHub WiFi sensor hub with 4 sensor inputs.
$119.95
Buy Now
VegeHub WiFi Sensor Hub - Specifications
VegeHub
Power consumption
Sleep mode: 35uA.
Add 12uA for each edge triggered channel.
Server update mode: 38mA for about 2.5 seconds.
Sensor read mode: 11mA + the current consumption of the sensor.

Sample Bits
12
Sample Buffer Size
64
Supply voltage
5.5 to 12V supply
Dimensions
See drawing below.
Number of sensor inputs
VG-HUB1: 1 sensor input
VG-HUB4: 4 sensor inputs

Maximum sensor input voltage.
0 to 3.3V
Voltage to Sensors
Same as voltage input to unit.
USB comm port baud rate
115200
Operational Temperature
-40°C to 85°C
Enclosure
Wall mounting bracket.
Maximum Sample Rate
once per minute
Maximum update Rate
once per minute
Waterproof
yes
Custom URL API
Thinkspeak API format
Current Firmware Version
1.6.1 (Older Version Notes)
VegeHub WiFi Sensor Hub - Dimensions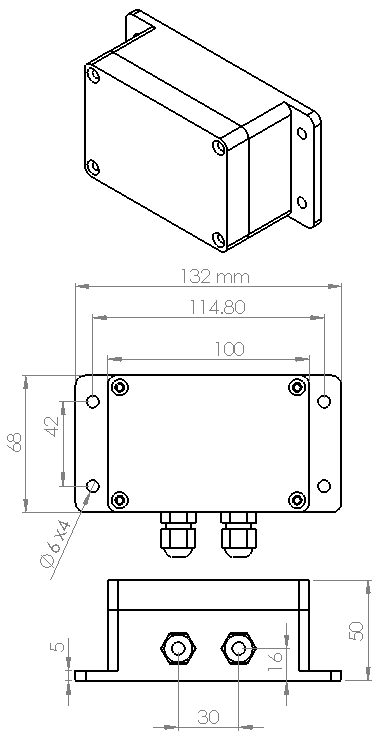 VegeHub WiFi Sensor Hub - Battery Considerations
If you intend on powering the VegeHub from a battery, battery selection is very important. Not all batteries types act the same in different environmental conditions. For example alkaline batteries do not do well in cold temperatures.
For temperature extremes Lithium Ion batteries are best, with a typical range of -40°C to 60°C. If you need off the shelf disposible batteries we recommend Energizer Ultimate Lithium batteries. Their 9V battery has a 700mAh capacity, and their AA have a 3500mAh capacity. If you use the AA batteries we recommend that you get a 9V or 12V AA battery holder to supply power to the VegeHub.
Recharable 3.7V Lithium Ion 18650 batteries are also a good choice, for environmental extremes, and for long life. Two batteries in series is sufficient to power the VegeHub.
Because batteries off-gas acid, especially in hot environments, never place batteries inside the VegeHub enclosure, as this will corrode and destroy the electronics, over time.
VegeHub WiFi Sensor Hub - Quick Start Guide
Connect the VegeHub to a remote server with the VegeHub Quick Start Guide.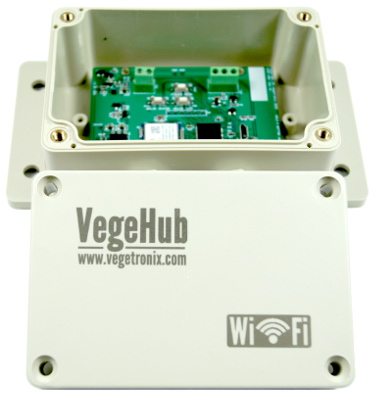 VegeHub WiFi Sensor Hub - Advanced Options
Flashing Root Certificates with USB
Root certificates allow the VegeHub to communicate with servers using secure HTTPS. The VegeHub has factory installed root certificates for the most common IOT servers. Some web sites will require SSL certificates that are not already included on the VegeHub. See the VegeHub Root Certificate Manual for information on updating root certificates.
USB Port
The VegeHub has a USB port which is used to update root certificates, configure its settings, and get its status information. To install device drivers for the USB, and to configure it, see the
VegeHub USB Manual
.
VegeHub WiFi Sensor Hub -Diagnostic Lights
Upon Power Up All 3 LEDs are lit. Most likely the battery has too low a voltage and needs to be replaced.
Red LED is blinking Failure to connect to the WIFI network.
Green LED is blinking Failure to connect to the server. Could be that you have bad SSL certificates, and need to update them.
Yellow LED is blinking Failure to get the Internet time. It could be that the NIST timeservers are down.
VegeHub WiFi Sensor Hub -Troubleshooting
Can not connect a laptop or phone to the Hub as a WIFI hotspot. Make sure that the red LED is lit. It should be the only LED lit. If all 3 LEDs are lit then most likely you have a bad battery. Use a voltmeter to test the battery voltage and make sure that the voltage is above 6V.