Connect Your Flow Sensor to Any Data Logger Buy Now
Pulse to Voltage Translator
0V to 3V Output, Linear with Pulse Rate
Low Cost, and Low Power
Choose From 4 Pulse Rate Ranges
Easy Verification with LED that Flashes on Each Pulse
Rugged, Easy to Mount Case (Optional)
Reads Pulses Rates Up To 1000Hz
Pulse to Voltage Translator Features
Allows you to connect any flow sensor to a data logger.
Linearly translates pulses to a voltage range of 0 to 3V.
Easily integrates with our VegeHub WiFi Sensor Hub.
Low cost.
Low power.
Is easy to trouble shoot systems with an LED that flashes with each input pulse.
Can be configured for 4 different pulse ranges for maximum resolution.
Optionally can be paired with a rugged and easy to mount case. (Sold separately.)
Reads pulse rates up to 1000Hz.
Pulse to Voltage Translator Applications
Interface flow sensors to low cost data loggers.
Interface pulse output tachometers to any data logger.
Detect expensive water system leaks and get alerts.
Monitor water flow via WiFi.
Get real time data on water costs.
Pulse to Voltage Translator Details
Our pulse to voltage translator allows you to easily connect flow sensors to any data logger. This saves you money, because you can use low cost loggers, that don't have pulse inputs.
The translator has an internal pull up resistor on its input line, and will accept pulses from all sensors that have pulsed open drain/collector outputs.
We've made it easy to verify your flow sensor is working. The LED pulses whenever it receives 20 input pulses for quick visible verification.
Optimized for Linearity and Resolution
The translator will convert pulse rates from 0 to 1000Hz linearly to a voltage range of 0 to 3V. There are 4 pulse frequency ranges that can be selected with an internal jumper:
0 to 125Hz.
0 to 250Hz.
0 to 500Hz.
0 to 1000Hz.
You select the range based on the maximum pulse rate that your flow sensor can generate. The ranges allow greater resolution, especially for lower pulse rate systems.
Vegetronix Modular Building Blocks
We take a modular approach with our product lines. Each product is simple and low cost, and will easily interface to all of our other products. This approach allows you to build any type of application from our basic set of components.
Get Emails and Text Alerts
When used with our WiFi Sensor Hub you can get email or text notifications of leaks, or unexpected water usage as indicated by your flow sensors.
Optional Easy to Mount Enclosure
To keep the cost low, we sell the board by itself, or you can optionally pair it with an enclosure. The enclosure is made of 3D printed PLA. The top part is of the case is transparent, enabling you to see the internal LED. The bottom part has flanges with mounting holes, making it easy to mount.
You can purchase the case from us for minimal cost, or 3D print your own enclosure, by downloading the VG-PULSE-TRANS-CASE STL files and printing the case yourself.
Need a 4-20mA Current Loop Output?
Drawing under 1mA it can easily be paired with our current loop translator, which transforms any voltage output device into a current loop output device. Because it draws under 4 mA, it can be loop powered. If your flow rate sensor brings the total current draw above 4mA you can still use the current loop translator, but you will need to power it from an external source, rather than the current loop.
We Want you to be Happy
Ordering is easy and low risk. Since we build our own products at our factory, all of our products are in stock. When you place your order from our website, it will ship same day from our factory, and you'll have it in your hands in just a couple of days. We ship to nearly EVERY COUNTRY in the world.
If you aren't amazed and delighted by your new Pulse to Voltage Translator, return it for a refund within 30 days.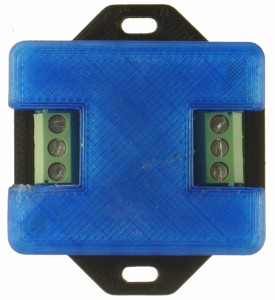 Pulse to Voltage Translator with Case. (Case is sold separately)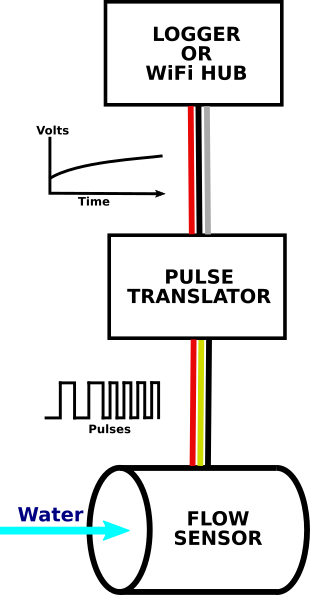 Pulse to Voltage Translator Functional Diagram.
VG-PULSE-TRANS - Pulse to Voltage Translator Ordering Info
We ship to nearly EVERY COUNTRY on the planet, directly to you from our factory.
99% of orders ship same day.
BUY NOW FROM OUR WEBSITE STORE
Part Number
Description
Price
Purchase
VG-PULSE-TRANS
Pulse to Voltage Translator Board
$19.95
Buy Now
VG-PULSE-TRANS-CASE
Plastic Enclosure for the Pulse to Voltage Translator Board
$9.95
Buy Now
Contact us for volume pricing information.
Other Vegetronix Products of Interest
Pulse to Voltage Translator - Specifications
| | |
| --- | --- |
| Input Voltage | 3.5VDC to 24VDC |
| Maximum Power | 3 mW |
| Current Consumption at 6V | 0.9 mA |
| Board Dimensions | 25.4mm x 31.75mm (1" x 1.25") |
| Enclosure Dimensions | See drawing below. |
| Operational temperature | -40°C to 85°C |
| Maximum Input Pulse Range | 1000Hz |
| Output Range | 0 to 3V |
| Output Resistance | 10K Ohms |
| Input Pull-up Resistance | 10K Ohms |
| Enclosure Material | Environmentally friendly PLA. |
Pulse to Voltage Translator Dimensions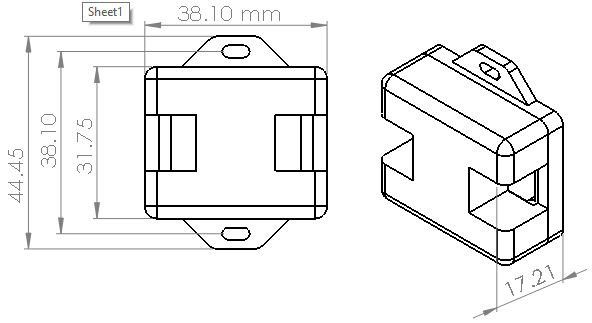 Wiring Tables
Terminal Block: TB1
Pin Number
Description
1
+V (To positive voltage of battery.)
Black
Voltage Output
Bare
Ground (To negative voltage of battery.)
Terminal Block: TB2
Pin Number
Description
1
+V (To flow sensor)
Black
Pulse Input
Bare
Ground (To negative voltage of battery.)
Pulse to Voltage Translator - Configuration
To configure the translator you will need to figure out the maximum pulse rate of your flow sensor in Hz. Set the range jumper to the closest setting that is higher than this value. The sensor's data sheet should tell you the maximum pulse rate. Most sensors have specify the pulse rate as a factor of flow in the following form:

freq(hz)= K*Q.
where Q is the flow rate, normally in liters/min,
and K is a scaling factor.
For example if your sensor has a maximum flow rate of 30 liters/min, and a scaling factor of 11. Then your maximum pulse rate would be 330Hz (30*11), and you would use the range setting specified by 500Hz, as this is the next highest value above 330Hz.
Wiring Diagram - Flow Sensor to VegeHub

The VG-PULSE-TRANS can be used to connect a flow sensor to a VegeHub WiFi Sensor Hub