Extend the Life of your Irrigation Pump Buy Now
Sprinkler Pump Blocker
Turns Off Your Pump, when no Valves are On

Rugged Water Proof Box

Adjustable Current Threshold

Control up to a 240VAC 16A Pump

Works with any 24VAC Timer

Gleans Power from the 24VAC Line

Turns Off Your Pump, when no Valves are On
Adjustable Current Threshold
Control up to a 240VAC 16A Pump
Works with any 24VAC Timer
Gleans Power from the 24VAC Line
Sprinkler Pump Blocker Features
Extends the life of your pump.
Allows you to use distributed moisture sensors in your sprinkler system.
Turns off your pump when no valves are on.
Works with any 24VAC irrigation timer.
Control up to a 240VAC 16A pump.
Waterproof case.
Adjustable current threshold.
Gleans power from the 24VAC line.
Hook up in 6 minutes.
Low cost.
Proudly made in America.
Sprinkler Pump Blocker Applications
Irrigation systems.
Aquaponic systems.
Crop Steering.
Sprinkler Pump Blocker Details
If your sprinkler system is sourced from a pump and you want to use moisture sensors with your irrigation timer, this product is for you.
Money saving sprinkler systems that use moisture sensors on each zone, need a way to communicate with the your water pump. If a moisture sensor has blocked the active zone, then you don't want to run your pump. Running a pump when no valves are open, wastes power and can damage your pump.
The sprinkler pump blocker uses an ingenious method to determine if any of the valves in your system are engaged. It monitors the electrical current going into your sprinkler timer. When any valve in your system turns on, current draw goes up. If the current exceeds a threshold which you set with a trim pot, the pump blocker will turn on the pump with a 16A latching relay. When the current drops below the threshold, it will turn off the pump.
Waterproof and Rugged
The rugged weather-proof control box, will give you years of trouble free operation. Mount the box to any surface in minutes, using the mounting holes in the wings on the side of the box.
Works with Any 24VAC Irrigation Timer
Since the sprinkler pump blocker merely monitors the current going into your irrigation timer, it will work with all 24VAC irrigation clocks. There is no complex interface.
Simple Setup
With 2 wires in, and two wires out, the setup is simple. Run the wires from your 24VAC transformer, into the pump blocker, and then run 2 corresponding wires out to your irrigation timer. Mount the pump blocker right next to your irrigation clock. Run the wires from the relay to your pump, and power source, in series. Use an appropriate wire gauge.
Vegetronix Modular Building Blocks
We provide modular building blocks that you need to create your soil moisture application. With these building blocks, you can create systems that will monitor soil moisture, and automatically control watering.
We recommend using our sprinkler relay boards with our VH400 soil moisture sensors to implement moisture controlled irrigation systems. Use one pair per zone.
How it Works in a Typical Sprinkler System
When the clock turns on a particular zone, the relay board receives 24VAC and is powered on. It in turn, powers the moisture sensor, and monitors the moisture level of the zone. When the moisture sensor detects that your soil is the correct moisture, it blocks the 24VAC signal to the valve shutting it off. The pump blocker then detects the drop in current, and turns off the pump.
Bonus Features
It uses a latching relay, so that the relay only consumes power when the relay transitions states, so during normal operation it uses virtually no power.
We Want You to be Happy
Ordering is easy and low risk. Since we build our own products at our factory, all of our products are in stock. When you place your order from our website, it will ship same day from our factory, and you'll have it in your hands in just a couple of days. We ship to nearly EVERY COUNTRY in the world.
If you aren't amazed and delighted by your new Sprinkler Pump Blocker, return it for a refund within 30 days.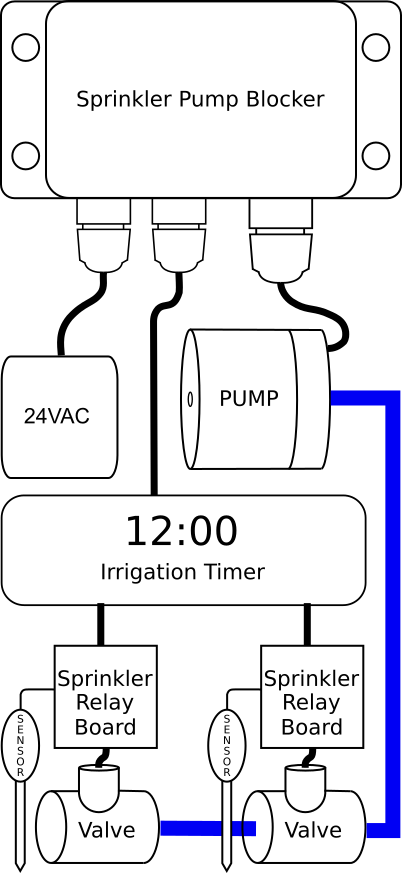 Sprinkler Pump Blocker System Diagram with VH400 Soil Moisture Sensors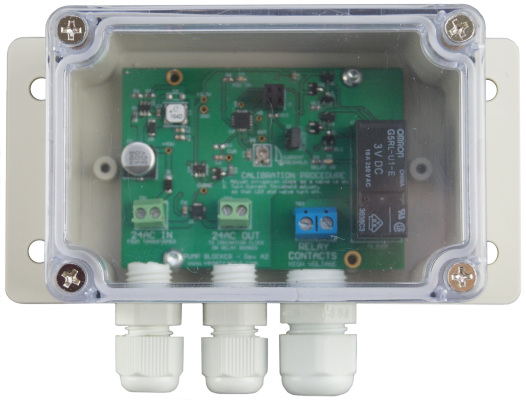 Sprinkler Pump Blocker
Sprinkler Pump Blocker Pricing and Ordering Info
We ship to nearly EVERY COUNTRY on the planet, directly to you from our factory.
99% of orders ship same day.
BUY NOW FROM OUR WEBSITE STORE
Part Number
Description
Price
Purchase
PUMP-BLOCK
Sprinkler Pump Blocker
Buy Now
Sprinkler Pump Blocker Specifications
Power consumption (Normal)
10 mW
Power consumption (When Relay Changes State)
740 mW
Supply Voltage
24V AC.
Dimensions
See drawing below.
Operational Temperature
-40C to 85ºC
Latching Relay
250V 16A
Sprinkler Pump Blocker Drawing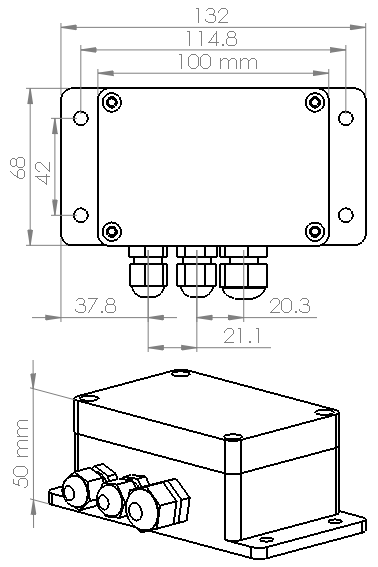 Sprinkler Pump Blocker Enclosure Drawing
Sprinkler Pump Blocker Quick Setup Guide
Unplug the 24VAC transformer from power. Make sure no power is connected to the relay on the sprinkler blocker.
Remove the transformer wires from your 24VAC irrigation clock. Connect these two wires to terminal block TB1 of the sprinkler pump blocker, labeled: "24VAC IN".
Run 2 wires from TB2 of the sprinkler pump blocker, labeled: "24VAC OUT", back to your irrigation clock, into the same location from where you removed the transformer wires. If you have extra wire on your transformer, just cut off a piece to use as this wire segment.
Plug the 24VAC transformer into power. You will see the power on LED turn on, which means the board has power and is operational.
Turn on one of your sprinkler valves using the irrigation clock. Using a small screw driver,adjust the current threshold using the current adjust pot in the center of the board. Adjust it enough such that the relay just barely turns on without chatter (the led will turn on as well). Now turn off the valve, the relay should disengage as well.
Make sure you run through all of the valves in your system to make sure the pump blocker operates as expected with them.
You can no connect up the relay contacts to your pump and power source in a series connection. Your pump blocker is now tuned and ready to operate.
Sprinkler Pump Blocker Wiring Table
Terminal Block TB1
Pin 1
24VAC IN (From 24VAC transformer. non-polar)
Pin 2
24VAC IN (From 24VAC transformer. non-polar)
Terminal Block TB2
Pin 1
24VAC OUT (To Irrigation Clock. non-polar)
Pin 2
24VAC OUT (To Irrigation Clock. non-polar)
Terminal Block TB3
Pin 1
Relay Contacts
Pin 2
Relay Contacts
Buy Now