Save Energy and Money With Latching Valves Buy Now
3/4" Sprinkler Valve NPT Threads with 9VDC Latching Solenoid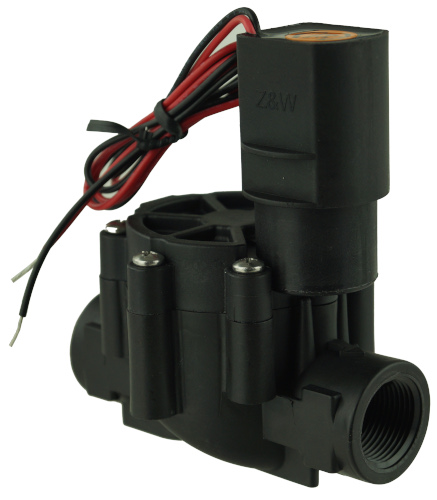 Works with Battery Powered Controllers

Extreme Low-Cost
9VDC Latching Solenoid
36,000 Times Less Energy*
3/4" NTP Threads, For North America
Works with Battery Powered Controllers
9VDC Latching Solenoid Valve
3/4" NTP Threads, For North America
Latching Sprinklers - 2 Minute Overview
VegeSprinkler Distributed Cloud Based Sprinkler Sytem
3/4" NPT Latching Sprinkler Valve - Features
Works with battery powered controllers
Turns on or off with a 50mS pulse of electricity.
Saves energy, reduces air pollution.
Extreme low-cost.
3/4" NPT Latching Sprinkler Valve - Applications
Wireless irrigation and sprinkler systems.
Greenhouse control.
Aquaponics Systems.
Drip Systems.
Water Conservation.
Crop Steering.
3/4" NPT Latching Sprinkler Valve Details
T
Traditional sprinkler valves haven't been updated in over a hundred years, and were designed at a time when fossil fuels were thought to be endless - when there were no concerns of atmospheric pollution. As such they are power hogs. When you factor in millions of these ancient devices wasting power around the world it translates into millions of gallons of oil and millions of tons of polution pumped into our air.
Latching valves use a 50 ms pulse of power to turn on or off, and as such their power is negligible. Latching valves consume 36,000 times less power than a traditional sprinkler, based on a 1 hour cycle.
Solves the Broken Wire Nightmare
Traditional valves use 24VAC cable and then run hundreds of feet of cable underground to each sprinkler valve from the controller's central location to each of the valves.
What happens when a gopher chews through a cable? Yes - you are in trouble.
If you do find yourself in this situation, it may be easier to replace the 24VAC valves in your box, with latching valves, and place our latching valve controller nearby to control them.
Why We're almost Giving these Away
We want to do our small part to save the planet by encouraging everyone in the entire world to dump their old fashioned 24AC sprinklers.
Our competitors aren't helping the planet by selling these at over $40. We're selling our valves at cost, when you buy them with our wireless VegeSprinkler systems, because we want everyone to replace their old fashioned, out-dated, power hungry valves, with our low-power, tree-hugging, planet loving valves.
Vegetronix Modular Building Blocks
Our product philosophy is simple. We provide low-cost modular building blocks to our customers, and then let them come up with their own applications.
Get creative with our very unique sensors, WiFi Hubs, Relay Boards and come up with your own creations.
We Want you to be Happy
Ordering is easy and low risk. Since we build our own products at our factory, all of our products are in stock. When you place your order from our website, it will ship same day from our factory, and you'll have it in your hands in just a couple of days. We ship to nearly EVERY COUNTRY in the world.
If you aren't amazed and delighted by your new Latching Sprinkler Valve, return it for a refund within 30 days.
Pricing and Ordering Info
We ship to nearly EVERY COUNTRY on the planet, directly to you from our factory.
99% of orders ship same day.
BUY NOW FROM OUR WEBSITE STORE
Part Number
Description
Price
Purchase
VALVE-LAT-NPT-0_75
NTP 3/4 Inch 9VDC Latching Sprinkler Valve - NPT Threads for North America.
Buy Now
Other Vegetronix Products of Interest
3/4" NPT Latching Sprinkler Valve - Specifications
| | |
| --- | --- |
| Threads | 3/4 NPT (For North America) |
| Resistance | 5.5 ohms |
| Min Pulse Duration | 50 ms |
| Supply voltage | 9VDC |
| Dimensions | See drawing. |
| Material | Nylon |
Latching Sprinkler Valve - Tutorial Videos
Latching Sprinkler Valves - Tutorial
3/4" NPT Latching Sprinkler Valve -Troubleshooting Guide
The valve opens when it should close. Reverse the wires, and you'll change the polarity of operation.
I can hear the valve click, but when I blow through it with my mouth, it's blocked. Sprinkler valves need a minimum pressure to transition. They use hydraulic fluid pressure to gain mechanical advantage, to give enough force to open the valve. In fact the solenoid doesn't open the valve, it opens water flow to a chamber which fills and then applies hydraulic force on a membrane to open the valve to flow. It's quite ingenious.
The valve doesn't click do anything The valve needs between 9V and 12V. Make sure you are using fresh batteries, and that the voltage doesn't dip when powering the valve. The battery or power supply should be appropriately sized to deliver at least 1.5A for 50 mS (0.675 Joules of energy). For example, a coin battery isn't going to be able to flip the valve. Also, the pulse should be at least 50mS long.
Buy Now