Relay Controller Board Selector
Relay Board for Switching Pumps and Valves (Battery Powered)
This board is perfect for blocking irrigation clock pulses to latching valves.
Drawing only 60uA during normal operation, this board is perfect for applications where battery life is critical. Because it uses a low power latching relay, it only requires a brief pulse of current to update the state of the relay. It has 2 LEDs to indicate that the board has power, and the on/off state of the relay. For low power mode the LEDs can be disabled with a simple jumper switch.
Learn More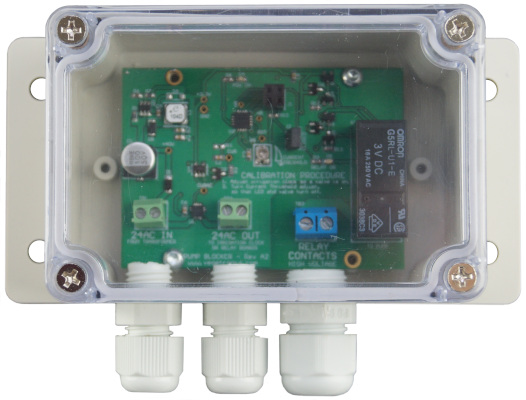 Sprinkler Pump Blocker
If your sprinkler system is sourced from a pump and you want to use moisture sensors with your irrigation timer, this product is for you.
The sprinkler pump blocker uses an ingenious method to determine if any of the valves in your system are engaged. It monitors the electrical current going into your sprinkler timer. When the current drops below the threshold, it will turn off the pump.
Learn More
---
Relay Controller Board Overview
Since VH400 soil moisture probes return low voltage analog signals proportional to water content, by themselves they can't turn on alarms, or interface directly to irrigation valves. For this reason, Vegetronix offers a variety of relay boards which can be used in a multitude of control applications.
Each of the boards have LED indicators to indicate power, and the state of the relay. Each board has either a solid state relay (TRIAC), or a mechanical relay. All of the boards have terminal blocks for easy connection, including a dedicated terminal block for connecting to our soil moisture sensors.
A simple jumper switch selects whether the relays closes contacts or opens contacts with moisture detection. The on/off threshold is set with a variable resistor, which is tunable with a small screw driver.
These boards are tailored for Vegetronix sensors, but can be used with any analog sensor that is powered from 5V.
The solid state relays are intended for driving AC loads only. The mechanical relay boards can drive either AC or DC loads, and require an DC power source.
The latching relay board is perfect for controlling low power latching sprinkler valves. Because it draws only a few µA, it can be run for nearly a year from a single 9V battery.
The pump blocker is different than the other 3 boards in that it is only used in situations where you want to turn on a water pump when a relay in your system is energized. In irrigation systems that use moisture sensors for each zone, the moisture sensor may turn off power to the valve, before the irrigation clock has completed the zone, and so the pump in turn needs to be turned off.
---
Relay Board Selector Table
| | | | | | |
| --- | --- | --- | --- | --- | --- |
| | VG-HUB-RELAY | VG-RELAY-AC | VG-RELAY-DC | VG-RELAY-LATCH | PUMP-BLOCKER |
| Shopping | Buy Now | Buy Now | Buy Now | Buy Now | Buy Now |
| Price | $139.95 | $35.95 | $39.95 | $59.95 | $99.95 |
| Input Voltage | 0 to 12 DC | 0 to 24 AC | 0 to 24V DC | 0 to 24V DC | 0 to 24 AC |
| Relay Type | Mechanical | TRIAC | Mechanical | Mechanical | Mechanical |
| Relay Load | 16A at 250V AC or DC | .6A 600V AC only | 5A at 250VAC OR DC | 10A at 250V AC or DC | 16A at 250V AC or DC |
| Suitable for battery operation | Yes | No | No | Yes | No |
| Typical Power | 30µA | | | 65µA | |
| Applications | Remote Internet Control of Anything | Sprinkler valves. | Pumps, Automation, Control | Remote control, Low power battery operated valves, Control of latching Valves. | Turns off your pump when it detects that no valves are engaged. |
| Board Size | 2.0"x2.8" (5.08cm x 7.112) | 1.75"x1.75" (4.445cm x 4.445) | 1.75"x1.75" (4.445cm x 4.445) | 2.0"x1.75" (5.08cm x 4.445) | 2.0"x2.8" (5.08cm x 7.112) |
| Product Links | VG-HUB-RELAY | VG-RELAY-AC | VG-RELAY-DC | VG-RELAY-LATCH | PUMP-BLOCKER |