Control Anything With A Sprinkler Controller Buy Now
Auxiliary Relays For Latching Controller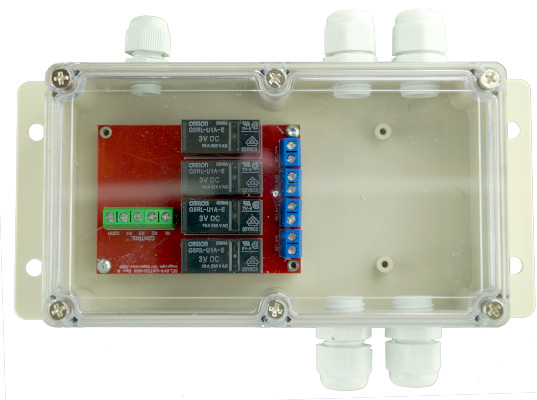 For Battery Powered Systems
Rugged Water Tight Enclosure
Easy to Mount
Works with Latching Valve Controllers
Can Control up to 4 Devices

For Battery Powered Systems
Rugged Water Tight Enclosure
Works with Latching Valve Controllers
Can Control up to 4 Devices
VegeSprinkler 2 Minute Overview
VegeSprinkler Distributed Cloud Based Sprinkler Sytem
Latching Controller Auxiliary Relays - Features
Works with latching valve controllers
Can control up to 4 devices.
For battery powered systems.
Water tight enclosure.
Box has flanges and screw holes for easy mounting.
Easy to mount and compact.
Latching Controller Auxiliary Relays - Applications
Control pumps.
control valves.
Control fans.
Control lights.
Crop Steering.
VegeSprinkler - Latching Controller Auxiliary Relays Details
Latching valves and latching relays are controlled in the same way. To change their on/off state you merely send them a very brief 50 ms pulse. Our Auxiliary Relay Box takes advantage of this, allowing you to control anything with your VegeSprinkler Latching Valve Controller. You can turn on or off pumps, fans, lights, valves - anything electrical. You can also control different devices with the same box.
This works seamlessly with our VegeSprinkler Latching Valve Controller The VegeSprinkler sends the Auxiliary Relay Box cand send control pulses to the latching relays instead of latching valves, allowing you to control anything with your sprinkler controller.
The relay manufacturer specifies a voltage range of 8.7V to 15V with 50ms pulses. However, for best operation, we recommend using the rated voltage of 12V, so make sure that you power your VegeSprinkler with a 12V battery, or supply.
Designed for Long Battery Life
Relays are electromechanical switches. Normal old fashioned relays have an internal solenoid which engages a switch, when the solenoid is engaged with electrical current. Since power must be applied to the internal solenoid, for as long as the controlled device is powered, standard relays waste power, and aren't used in battery operated systems.
Latching relays are different in that they only require a brief pulse of electricity to turn their internal switch on or off. As such, they are perfect for use in low power battery operated systems.
If you are new to relays and how they work. Remember, that they are merely switches, like a wall switch that turns on your lights. As such, they are normally connected in series with a power source, and the controlled device.
Rugged and Waterproof for Long Life in Harsh Conditions
You can put this box outside in the rain or snow. The rugged ABS plastic box has silicone rubber gaskets making it waterproof. All of the cable entry points use cable glands, so that no water or insects can get in.
The box has flanges and screw holes for easy mounting, so that you can put it anywhere.
Vegetronix Modular Building Blocks
Our product philosophy is simple. We provide low-cost modular building blocks to our customers, and then let them come up with their own applications.
Get creative with our very unique sensors, WiFi Hubs, Relay Boards and come up with your own creations.
We Want you to be Happy
Ordering is easy and low risk. Since we build our own products at our factory, all of our products are in stock. When you place your order from our website, it will ship same day from our factory, and you'll have it in your hands in just a couple of days. We ship to nearly EVERY COUNTRY in the world.
If you aren't amazed and delighted by your new Latching Controller Auxiliary Relays, return it for a refund within 30 days.
Pricing and Ordering Info
We ship to nearly EVERY COUNTRY on the planet, directly to you from our factory.
99% of orders ship same day.
BUY NOW FROM OUR WEBSITE STORE
Part Number
Description
Price
Purchase
RELAY4-LATCH-AUX
Latching Controller Auxiliary Relays.
Buy Now

For volume pricing contact us.
Latching Controller Auxiliary Relays - Specifications
VegeHub
Maximum Relay Load
16A 250VAC
Supply voltage
8.5V to 15V with 50ms Pulse
recommended voltage is 12V
Dimensions
Extra Large Box Dimensions
Number of Relays
4
Operational Temperature
-0°C to 50°C
Enclosure
Wall mounting bracket.
Waterproof
Yes
VegeSprinkler-Latching Wiring Table
TB1 (Battery In)
Pin
Label
Description
1
R1
Relay Input 1
2
R1
Relay Input 2
3
R3
Relay Input 3
4
R4
Relay Input 4
5
COM
Relay Common
TB2 (Battery In)
1
RELAY 1A
RELAY 1A
2
RELAY 1B
RELAY 1B
3
RELAY 2A
RELAY 2A
4
RELAY 2B
RELAY 2B
5
RELAY 3A
RELAY 3A
6
RELAY 3B
RELAY 3B
7
RELAY 4A
RELAY 4A
8
RELAY 4B
RELAY 4B
Buy Now