Monitor and Control your Tank Water Level with Just a Wire! Buy Now
AquaPlumb® - Tank Water Level Sensors

Rugged Rain Proof Box
No Moving Parts
Measures With a Wire
Depths 10cm up to 3m
Fix End with Bob-Clamp
Curious How it Works? See this 2 Minute Video
"The AquaPlumb has been the perfect solution for my application. My residential water supply relies on rain water catchment so I have to keep a close eye on the levels to make sure I don't get too low. Even with dirty water (from dust & tree debris), seasonal temperature extremes and operating in a 100% humid environment, the AquaPlumb has held up and always gave me accurate and reliable measurements. This is a huge improvement over my old method of having to lift up an 80lb concrete lid to see how much water was in the tank."
Jeremy in Ohio
Water Level Sensor Probe Features
No moving parts.
Water resistant enclosure.
Rugged design for long term use.
Precise measurement.
Instantaneous results.
Output Voltage is proportional to liquid level.
Can Measure large changes in water level.
Low cost.
Not conductivity based.
Probe does not corrode over time.
Compact size, and easy to mount.
Very low power operation.
Works with many different type of fluids.
Wide supply voltage range.
Compatible with Arduino and most data loggers.
Proudly made in America.
Water Level Sensor Probe Applications
Livestock water tanks.
Flood and spill alarms.
Rain barrel monitoring.
Reservoir monitoring.
Environmental monitoring.
Water conservation applications.
Mechanical float replacement.
Electronic toilets.
Aquaponics.
Monitoring of Aquariums.
Sensor for Internet of Things.
Crop Steering.
Greenhouse Automation.
AquaPlumb Water Level Sensor Details
You will amaze your friends, when they see that you can monitor water level with a strand of common wire.
Accurately measure the level of any fluid, including water, salt water, and oils.
Waterproof and Rugged
The rugged weather-proof control box, will give you years of trouble free operation. Mount the box to any surface in minutes, using the mounting holes in the wings on the side of the box.
The sensor wire is made of tough PVC plastic, and is resistant to corrosion over time. It can be trimmed to any length to match the depth of your water tank or reservoir, from 10 cm to 3 meters deep.
Interface Our Sensors to any System
It's easy to interface the Aquaplumb to other equipment, because it continuously outputs a voltage directly related to the percentage of the cable that is submerged. The output range is 0V to 3V, where 0V is the minimum water level, and 3V is the maximum water level.
Any device which can read a voltage, can read the Aquaplumb water level sensor. This includes devices as simple as volt meters, to more complex data loggers.
Vegetronix Modular Building Blocks
We provide modular building blocks that you need to create your soil moisture application. With these building blocks, you can create systems that will monitor soil moisture, and automatically control watering.
We recommend using our VegeHub WiFi garden sensor hub to read the AquaPlumb, because you can view water level data on your computer or phone web browser, remotely from any where in the world.
We've partnered with the sensor cloud site - VegeCloud.com which will graph, store, and manage your water level sensor data.
Low Power for Battery Operation
Your batteries can last for years, because the AquaPlumb is crafted to be lower power. For lowest power operation, only power the sensor right before you take a reading, and then power it down, until the next reading. Our other data logger products do this for you automatically.
The normal operating mode power is only 1.2 mA, so this system can be loop powered in 4-20mA current loops used by PLAs. During calibration mode the sensor uses up to 20mA, but this is only used during calibration for the initial setup.
Bonus Features
The AquaPlumb water level sensor can be adapted to any tank depth with a simple calibration procedure, which is explained below.
For your convenience, the end of the cable has a bob-clamp, which can be mounted to the side of a reservoir, to a small weight, or to a stick, to keep the wire fixed.
When ordering the AquaPlumb sensors, select the length of the power cable in standard 2 meter, 5 meter or 10 meter lengths. The sensing cable comes in the standard lengths of 1 meter and 3 meter lengths. See the ordering table below.
We Want you to be Happy
Ordering is easy and low risk. Since we build our own products at our factory, all of our products are in stock. When you place your order from our website, it will ship same day from our factory, and you'll have it in your hands in just a couple of days. We ship to nearly EVERY COUNTRY in the world.
If you aren't amazed and delighted by your new water level sensor, return it for a refund within 30 days.
Tim's Corner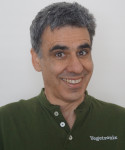 My daughter Rachael raises chickens in our back yard coop, and sells the eggs. Even though she loves our chickens, she sometimes would forget to refill their water tank, and the chickens would get dangerously thirsty. As a result, I would often have to check up on her to make sure that their water tank was full, which was time consuming for me.
We solved the problem with an AquaPlumb connected to a VegeHub that sends the water level data to VegeCloud, a cloud sensor site. We configured VegeCloud to send me an email, if the water level ever dips below 20%. I can also check in at any time and see the tank water level from my web browser.
The view below is real time data from our chicken coop. The AquaPlumb has saved our chicken's lives.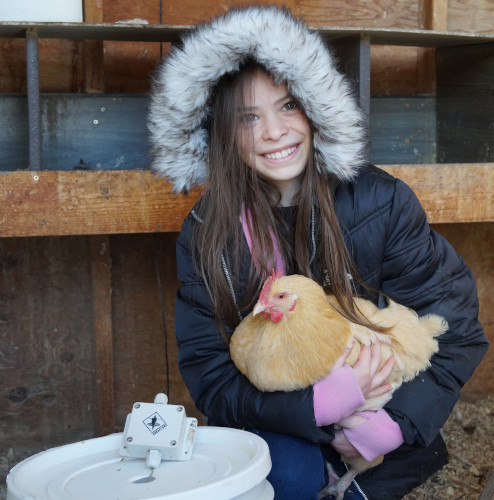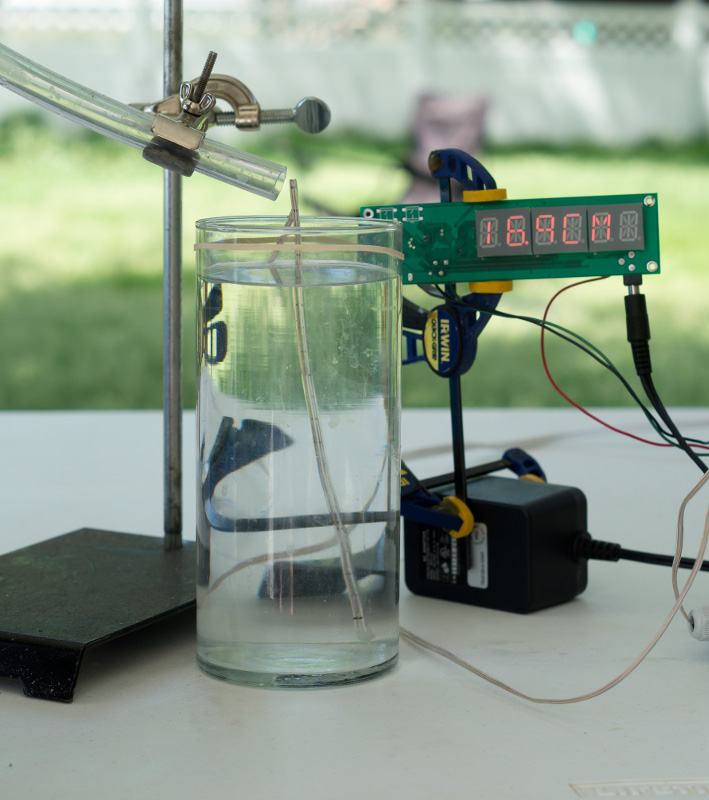 AquaPlumb® Water Level Sensor Measuring Water (Display is not included.)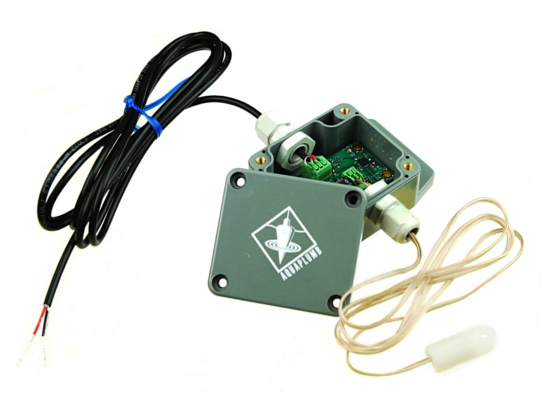 AquaPlumb® Kit Includes: sensor wire, sensor wire clamp, controller board, water tight box, and power cable.
Water Level Sensor Probe Pricing and Ordering Info
We ship to nearly EVERY COUNTRY on the planet, directly to you from our factory.
99% of orders ship same day.
BUY NOW FROM OUR WEBSITE STORE
AquaPlumb® with 1 Meter Sensor Wire
Part Number
Description
Price
Purchase
APLUMB1-2M
AquaPlumb Liquid Level Sensor, 1m Sensor, 2m Power Cable
Buy Now
APLUMB1-5M
AquaPlumb Liquid Level Sensor, 1m Sensor, 5m Power Cable
Buy Now
APLUMB1-10M
AquaPlumb Liquid Level Sensor, 1m Sensor, 10m Power Cable
Buy Now
AquaPlumb® with 3 Meter Sensor Wire
APLUMB3-2M
AquaPlumb Liquid Level Sensor, 3m Sensor, 2m Power Cable
Buy Now
APLUMB3-5M
AquaPlumb Liquid Level Sensor, 3m Sensor, 5m Power Cable
Buy Now
APLUMB3-10M
AquaPlumb Liquid Level Sensor, 3m Sensor, 10m Power Cable
Buy Now
Other Vegetronix Products of Interest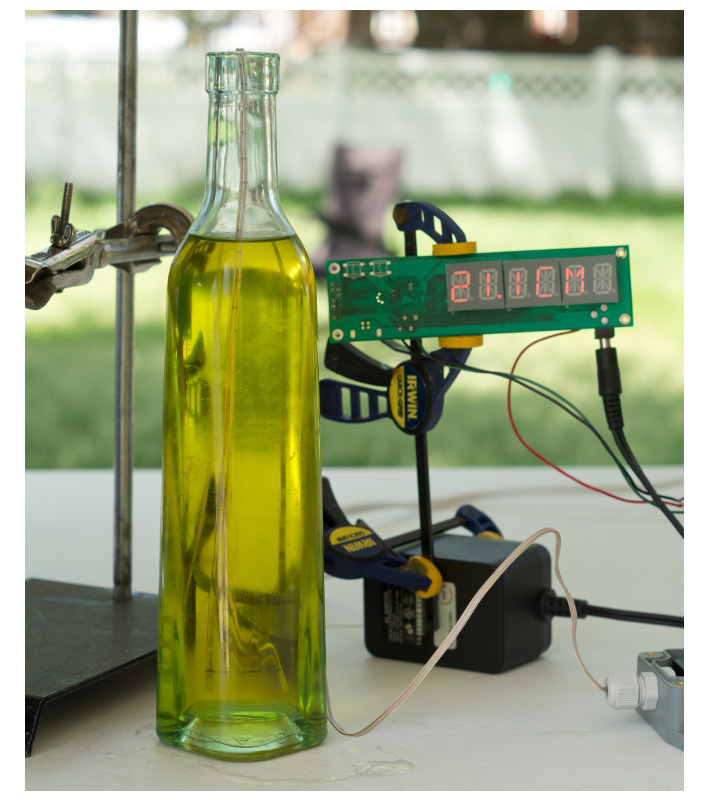 You Can Even Measure the Level of Olive Oil with the AquaPlumb
Water Level Sensor Probe Specifications
AquaPlumb®

Power consumption (Normal Mode)
1.2 mA
Power consumption (Calibration Mode)
20 mA
Supply Voltage
3.5V to 20 VDC.
Resolution
3mV
Dimensions
See drawing below.
Warm Up Time (Power on to Output Stable)
400 ms
Output Impedance
10K ohms
Operational Temperature
-40C to 85ºC
Accuracy at 25°C
2%
Output>Output
0 to 3V linear with fluid level.
Water Level Sensor Probe Drawing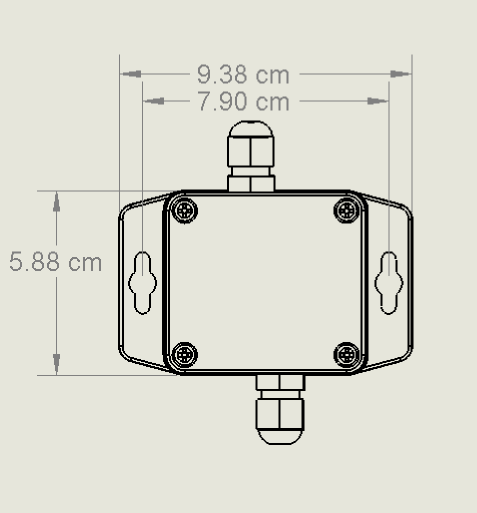 AquaPlumb® Water Level Sensor Enclosure Drawing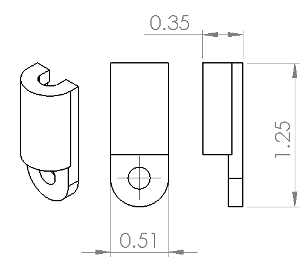 AquaPlumb® Water Level Sensor Clamp Drawing (Dimensions are inches.)
Frequently Asked Questions - FAQ
What is the resolution of the water level sensor?

The output resolution is 3 mV, which corresponds to a length resolution of 0.001 over the calibrated length. For example,if the calibrated length of the sensor wire is 1 meter, the resolution is 1 mm, and if the calibrate length is 3 meters, the resolution is 3 mm.

Will the water level sensor measure liquids other than water?

Absolutely. In the video you see it working with olive oil - which is a non-polar liquid.

What happens to the output of the water level sensor, if the water is turbulent?

You can low pass filter, or a moving average digital filter to smooth out the signal, or merely connect a capacitor to output of the sensor and to the ground of the sensor.

Can the water level sensor wire be cut shorter?

Yes, but one end must be sealed. You can also just calibrate it for shorter lengths - no is cutting needed.

Can the the water level sensor be used with flammable liquids?

No. Do not use it with flammable liquids.

If different parts of the wire are submerged, rather than just one end what is the response?

The response is the total submerged length divided by the calibrated length times 3V. For example: if the sensor wire is calibrated to 1 meter, and the first quarter and last quarter of the sensor are submersed, then the sensor will output 1.5V.

If the water moves downward quickly such that the sensor wire still has a film of moisture on it from the previous water level, will this affect the reading?

If the sensor wire is slightly wet, above the current water level, yes, it will affect the reading slightly.

What comes with the AquaPlumb Kit?

It includes: a liquid sensor wire, controller board, power cable, water tight box, sensor wire end clamp.

If power is removed from the AquaPlumb are the calibration settings saved?
Can the sensor wire be replaced?
How to Get Started with the Water Level Sensor Probe
The best way to get started is to purchase a few low cost water level sensor probes from our webstore and try them out in your application.
AquaPlumb® Water Level Sensor Manual
How to Calibrate the Water Level Sensor
The AquaPlumb has two calibration buttons. The sensor wire can be calibrated for different liquids, and for different maximum lengths. For example, if you have a 1 meter sensor wire, it can be calibrated so that it's maximum level is at 1 meter, or a fraction of a meter. If the sensor is calibrated to .5 meters this means that it puts out 3V at .5 meters.
The sensor should be re-calibrated when it is moved, or when different liquids are used. To calibrate it use these steps.
Open the case, by removing the 4 corner screws.
Remove the sensor wire and dry it off so that it is completely dry.
Press the upper right button which says "Calibrate Dry". After 2 seconds of pressing down the button, a red LED will turn on. Release the button, and it will blink several times, and turn off. Do not touch the sensor wire while you are calibrating it, as this will affect the accuracy, since it will detect the water in your hands.
Insert the sensor wire into the liquid to the maximum length that you desire. This can be any depth up to the full length of the wire.
Press the bottom right button which says "Calibrate Wet". After 2 seconds of pressing down the button, a red LED will turn on. Release the button, and it will blink several times, and turn off. The sensor element is now fully calibrated.
If your sensor has a relay, to calibrate the relay threshold, insert the sensor wire into the liquid, at the point where you want the relay to turn on. Then press both buttons for two seconds. Both LEDs should turn on, when you release the buttons, the LEDs will blink several times. The relay is now calibrated.
To change the polarity of the relay, either insert or remove the polarity jumper on J1.
Water Level Sensor Probe Wiring Table
| | |
| --- | --- |
| Bare | Ground |
| Red | POWER: 3.5V to 20 VDC. |
| Black | OUT: (0 to 3V linear with fluid level.) |
AquaPlumb Trouble Shooting
Both LEDs are flashing after calibration.

This means that there was a mistake during calibration: that the dry or low water level calibration point, is higher than the wet, or high water level point. This can occur if you've pressed the wrong button, or didn't calibrate in the correct sequence. Just go through the calibration routine again, and this issue should go away. You should also make sure that all of the wires are secure in their respective terminal blocks.

A button was pressed, but LED wont light up.

The button must be pressed down for 3-4 seconds to light the LED, and begin calibration. A quick press of the button, will not work.

It's hooked to a VegeHub and when I try to calibrate it, the LEDS don't light.

Remember the hub is sleeping most of the time, and doesn't apply power to the sensors to conserve power. If there is no power to the sensor, you can't calibrate it. To calibrate it while connected to a hub, you can configure the hub to always power the sensor, and then calibrate it, but remember to turn off this setting after it is calibrated, or it will drain the battery. You can also remove it from the hub, and apply a battery to it, and calibrate it, and then reconnect it to the VegeHub.
Water Level Equation Generator
Water Level Sensor Videos
How To Calibrate the AquaPlumb®