We Ship Nearly Everywhere



VH400 Soil Moisture Sensor Probes
Our VH400 series soil moisture sensor probes enable precise low cost monitoring of soil water content.

Because our probe measures the dielectric constant of the soil using transmission line techniques, it is insensitive to water salinity, and will not corrode over time as does conductivity based probes. Our probes are small, rugged, and low power.

Compared to other low cost sensor such as gypsum block sensors, our probes offer a rapid response time. They can be inserted and take an accurate reading in under a second.


Probes come in standard cable lengths of 2 meters, 5 meters and 10 meters.

Soil Moisture Sensor Probe Applications

Irrigation and sprinkler systems.
Moisture monitoring of bulk foods.
Rain and weather monitoring.
Environmental monitoring.
Water conservation applications.

VH400 - Soil Moisture Sensor Probe
Soil Moisture Sensor Probe Features
Extreme low cost with volume pricing.
Not conductivity based.
Insensitive to salinity.
Probe does not corrode over time.
Rugged design for long term use.
Small size.
Consumes less than 7mA for very low power operation.
Precise measurement.
Measures volumetric water content (VWC) or gravimetric water content (GWC).
Output Voltage is proportional to moisture level.
Wide supply voltage range.
Can be buried and is water proof.
Probe is long and slender for wider use, including smaller potted plants.
Other Vegetronix Products of Interest
Soil Moisture Sensor Probe Pricing and Ordering Info
Contact us for pricing information.
ORDER INFO
Part Number
Description
Price
Purchase
VH400-2M
Soil Moisture Sensor - 2 meter cable
$39.95
VH400-5M
Soil Moisture Sensor - 5 meter cable
$45.95
VH400-10M
Soil Moisture Sensor - 10 meter cable
$55.95
Soil Moisture Sensor Relay Boards
The quickest way to evaluate if the VH400 series is right for you is to also order some of our sensor relay boards. The relay boards accept input from a single sensor and control a solid state or mechanical relay. The relay contacts can be configured to close when wet, or open when wet. The dry/wet threshold is easily set by an an on boardvariable resistor, which can be tuned with a small screwdriver. With our relay boards, within minutes you'll be using your VH400 soil moisture probe to control, valves, alarms or home automation systems.
Soil Moisture Sensor Probe Specifications
VH400 Sensor

Power consumption
< 13mA
Supply Voltage
3.5V to 20 VDC.
Dimensions
See drawing below.
Power on to Output stable
400 ms
Output Impedance
10K ohms
Operational Temperature
-40ºC to 85ºC
Accuracy at 25

°C

2%
Output
0 to 3V related to moisture content
Shell Color
Red
Voltage Output Curves
Curves, Piecewise linear equations
Certifications
CE Declaration of Conformity
Soil Moisture Sensor Probe Wiring Table
| | |
| --- | --- |
| Bare | Ground |
| Red | POWER: 3.5V to 20 VDC. |
| Black | OUT: (0 to 3V related to moisture content.) |
VH400 Soil Moisture Sensor Probe Drawing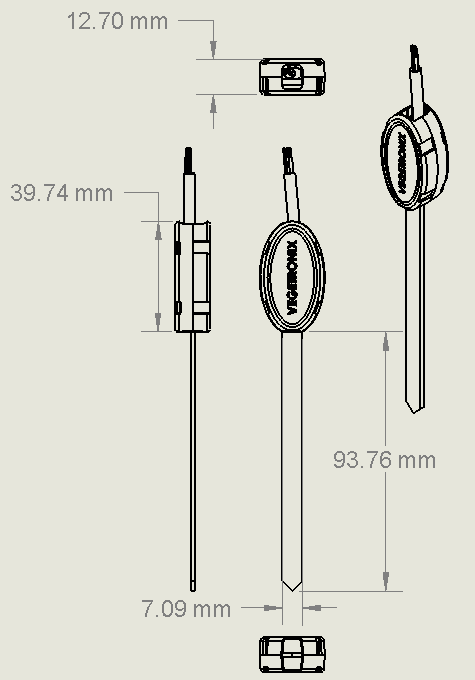 VH400 Soil Moisture sensor Drawing
Soil Moisture Sensor Probe Technical Literature
See our Soil Moisture Sensor Probe Application Notes for reference designs and information on how to use the soil moisture probe in larger systems.
How to Get Started with the Soil Moisture Sensor Probe
The best way to get started is to purchase a few low cost soil moisture sensor probes and try them out in your application.
Usage Tips
Bury the sensor at root level. Since the sensor takes an average across the blade, for a precise reading at a particular depth, bury it horizontally such that water will not pool up on the blade.
Many PLC's have a 24V output, which is too high for the VH400 sensor. A resistor voltage divider can be used to drop the voltage in half. To do this, use two 600 ohm 1/4W resistors in series, tied from the 24V to ground. The center of the resistors can be tapped to supply 12V. Note that this is not a very power efficient solution.
Soil Moisture Sensor Instructional & Promotional Videos
Soil Moisture tutorial
The Techno Gardener gives a basic turial on soil moisture,explaining capillary action, gravitational water, water holding capacity, field capacity, plant available water, and wilting point for plants.


How To Wire Up a Soil Moisture Sensor
The Techno Gardener shows you how to wire up a Vegetronix soil moisture sensor to a digital multimeter.
Soil Moisture Sensor as Water Level Sensor
The Techno Gardener demonstrates how a Vegetronix soil moisture sensor can be used as a water level sensor.
Soil Moisture Sensor Detects Clammy Hands
The Techno Gardener shows you how a Vegetronix soil moisture sensor can also be used to detect the moisture in your hands. It blows away gypsum block sensors with it's instantaneous moisture readings.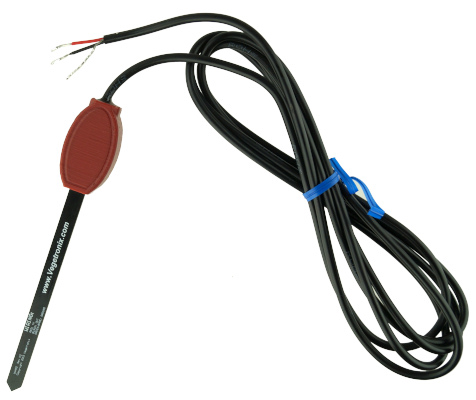 Still have questions?