Keep Your Plants' Lungs Moist Buy Now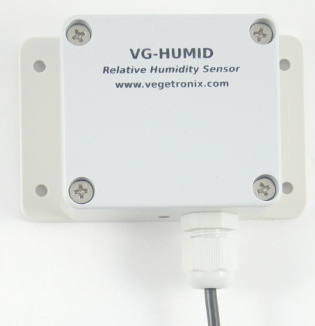 Relative Humidity (RH) Sensor Details
Your plants breathe just like you do.
When humidity levels drop too low, the plants transpire (breathe) faster than nutrients can be transported. Since only water is transpired, nutrients become overly concentrated. Depending on the plant and their growing phase, plants need a relative humidity range between 40% to 70%. The flowering range is usually lower than the vegetative growth stage. For example, cannabis is optimally grown indoors at 50% to 70% during vegetative growth, and 50% to 60% while flowering.
Our air humidity sensors, can help you achieve the optimal relative humidity for your plants. The VG-HUMID is a low-cost, low-power, precision relative humidity (RH) sensor, for measuring relative humidity of air.
Rugged Water Resistant Case
The sensor and electronics are enclosed in a weather resistant flanged box for easy mounting. The electronic sensor is directly connected to the outside air through a small inlet tube, on the bottom side of the box near the cable gland. Because the small inlet tube isolates the sensor from the rest of the air volume in the box, latency to changes in relative air humidity is reduced.
Simple 3 Wire Interface
The sensor has a simple electrical interface of 3 wires: ground, power and an analog output voltage which is linear and directly proportional to the relative humidity ranging from 0 to 3.0V, where 0 represents 0% humidity and 3.V represents 100% humidity. It can be powered with a voltage supply from 3.5V to 20V, and consumes less than 11 mW (3.4mA at 3V).
When ordering this relative humidity (RH) sensors, you can select the length of the power cable in standard 2 meter, 5 meter or 10 meter lengths. The sensing cable comes in the standard lengths of 1 meter and 3 meter lengths. See the ordering table below.
Vegetronix Agricultural Building Blocks
We provide modular building blocks that you need to create your agriculture application. With these building blocks, you can create systems that will monitor light levels and control lights and valves based on the readings.
For recording data, we carrier simple low-cost data loggers, which can read up to 8 sensors. Waterproof wall mountable displays allow you to see your sensor data, near its source.
For remote viewing of data, we provide a WiFi Data Logger, which will read up to 4 sensors, and store data in the cloud. This Sensor Hub lets you remotely view your sensor data on your phone's web browser. You can even receive text messages, and email alerts.
We've partnered with the sensor cloud site - VegeCloud.com which will graph, store, and manage your air humidity data.
We Want you to be Happy
Ordering is easy and low risk. Since we build our own products at our factory, all of our products are in stock. When you place your order from our website, it will ship same day from our factory, and you'll have it in your hands in just a couple of days. We ship to nearly EVERY COUNTRY in the world.
If you aren't amazed and delighted by your new VG-HUMID Relative Humidity (RH) Sensor, return it for a refund within 30 days.
Relative Humidity Sensor Features
Low cost.
Output Voltage is proportional to relative humidity.
Rugged design for long term use.
Compact size.
Very low power operation.
Precise measurement.
Wide supply voltage range (3.5 to 20VDC).
Weather resistant enclosure.
Compatible with Arduino.
Relative Humidity Sensor Applications
Crop Steering.
Optimize plant transpiration.
Weather and Environmental Monitoring.
Greenhouse Automation.
Aquaponics.
Monitoring of Terrariums.
Sensor for Internet of Things.
Other Vegetronix Products of Interest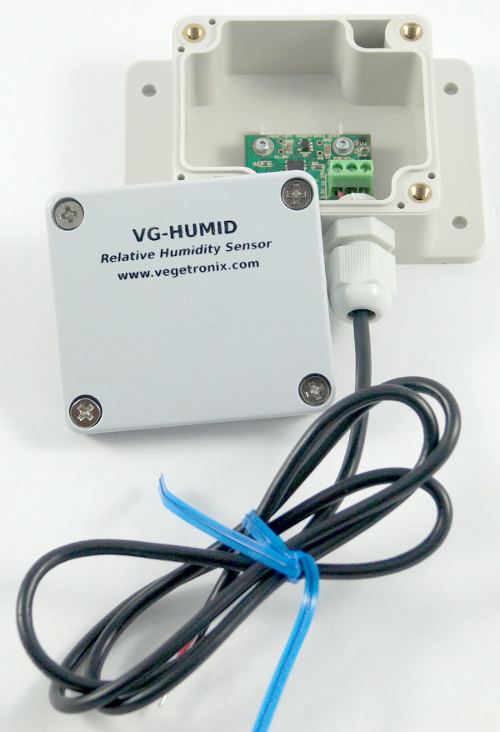 VG-HUMID Relative Humidity Sensor Kit Includes:
controller board, weather resistant box, and power cable.
Relative Humidity Sensor Pricing and Ordering Info
We ship to nearly EVERY COUNTRY on the planet, directly to you from our factory.
99% of orders ship same day.
BUY NOW FROM OUR WEBSITE STORE
VG-HUMID
Part Number
Description
Price
Purchase
VG-HUMID-2M
Relative Humidity Sensor with 2m Power Cable
Buy Now
VG-HUMID-5M
Relative Humidity Sensor with 5m Power Cable
Buy Now
VG-HUMID-10M
Relative Humidity Sensor with 10m Power Cable
Buy Now
Contact us for volume pricing information.
Relative Humidity Sensor Specifications
VG-HUMID
Power consumption (Normal Mode)
10.2 mW
Supply Voltage
3.5V to 20 VDC.
Dimensions
See drawing below.
Power on to Output Stable
500 ms
Output Impedance
10K ohms
Operational Temperature
-40C to 85°C
Accuracy at 25°C
3% from 20 to 80 RH,
4.5% from 0 to 20 RH, and 80 to 100 RH.
Resolution
0.1% RH
Output Range
0 to 3V linear with relative humidity.
Voltage to RH equation
RH(%)= V*33.33
Relative Humidity Sensor Drawing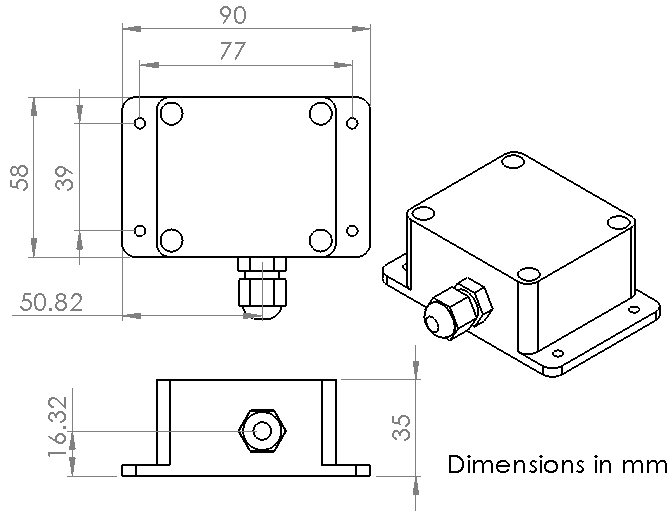 VG-HUMID Relative Humidity Sensor Enclosure Drawing
Relative Humidity Sensor Wiring Table
| Terminal Block 1 | Wire Color | Description |
| --- | --- | --- |
| Pin 1 | Red | POWER: 3.5V to 20 VDC. |
| Pin 2 | Black | OUT: (0 to 3V linear with relative humidity.) |
| Pin 3 | Bare | Ground |
Frequently Asked Questions - FAQ
Is the box water proof?

The enclosure is a water tight box with a gasket on the parting surface between the box and lid, however, to measure relative humidity, the sensor needs access to the air which it is measuring, so it has a small hole in the enclosure next to the cable gland to allow air to enter into the box. The box should be mounted with the cable gland facing downward so that rain or other water can not flow into the box.

What to I get when I order a VG-HUMID relative humidity sensor?

It includes: a sensor board, power cable, and weather resistant box.

How should the enclosure be mounted?

Mount the cable gland facing downward.
How to Get Started with the Relative Humidity Sensor
The best way to get started is to purchase a few low cost relative humidity sensors from our webstore and try them out in your application.
Buy Now