Protect your Plants From Frost and Extreme Heat Buy Now
Soil Temperature Sensor Probes

Simple 3 Wire Hookup

Rugged and Waterproof Case

Highly Accurate Digital Sensor

Resolution of 0.125°C
Low Power: < 3mA
Slender Blade wont Hurt Roots
Rugged and Waterproof Case
Highly Accurate Digital Sensor
Slender Blade wont Hurt Roots
Soil Temperature Sensor Probe Features
Low-cost.
No need to calibrate.
Rugged design for long term use.
Small size.
Consumes less than 3mA for very low power operation.
Precise measurement.
Output Voltage is linear to temperature.
No complex Steinhart-Hart equations are needed to convert voltage to temperature.
Wide supply voltage range.
Can be buried and is water proof.
Probe is long and slender for wider use, including smaller potted plants.
Soil Temperature Sensor Probe Applications
Crop Steering.
Compost pile monitoring and automation.
Measure air or soil temperature.
Monitor germination temperature of seeds.
Monitor greenhouse temperature.
Get text messages and phone alerts from your plants.
Protect plants from frost.
Ice detection systems.
Irrigation and sprinkler systems.
Soil Temperature Sensor Probe Details
The THERM200 is one of our most useful sensors, because soil temperature is absolutely critical to the growth and health of your garden. The THERM200 tells you when to plow and to plant. They can be used in green houses to monitor temperature, and make sure that your plants aren't getting too hot. Failure to monitor and protect your plants from temperature extremes can result in stunted and frost bitten plants. They can tell you when the ground has thawed in the spring, so that you can dig, and put in fence posts, or lay foundations.
The germination temperature of plants is critical. The ideal temperature for germination of most plants is 21°C (70°F). Without monitoring your temperature, it's easy for your seeds to get either too hot or too cold preventing your seeds from germinating.
The THERM200 is also useful when knowing when to not water plants. If its cold outside you often don't want to water your plants, especially if you are using a sprayer, even if the soil is getting dried out. Figure 1 below shows damaged bean plants that were sprayed during a cold spell. Had their watering been delayed, they would have survived. The THERM200 together with a VH400 soil moisture sensor, allow you to perfectly control your watering of plants. The VH400 tells you if the soil is too dry and the THERM200 tells you if it is warm enough to water. You can create complex watering schemes based off your sensor data using a VegeHub Wifi Sensor Hub, and VegeCloud.com
The THERM200 helps you to protect your plants, and quickly diagnose garden problems. When used with our VegeHub WiFi Sensor Hub, you can get text message and email alerts, letting you know when your plants are in trouble from temperature extremes.
Highly Accurate With Digital Precision
The internal digital temperature sensor is highly accurate with 0.125°C of resolution. You can use the sensor over large temperature range from -40°C to 85°C.
Output is 100% Linear
This is NOT an thermistor based sensor. Thermistor based temperature sensors are non-linear, inaccurate, and a nightmare to calibrate. There is no need to implement complex inverse Steinhart-Hart equations or do complex calculations such as logarithms, which are difficult to compute for microcontrollers and humans alike.
The THERM200 is 100% linear over it's operational range, and you or your controller can compute the temperature from the output voltage with simple math. You can convert to temperature with a single multiply and addition. Once you've tried the THERM200, you'll never want to use a thermistor based sensor again.
No Calibration Needed
Because the THERM200 is a digital sensor, you will never need to calibrate it.
Waterproof and Rugged
Made of durable ABS plastic, and fiberglass, our THERM200 temperature sensor is absolutely water proof and rugged, ready for the most challenging application that you can throw at it. It can be buried at any depth in the ground, or be inserted above ground, or into the soil of your potted plants.
Interface Our Sensors to any System
The THERM200 will easily interface to any decent data logger, or microcontroller. Customers have connected it to Arduino boards, electron particle IO boards, and a slew of common microcontrollers. The output ranges from 0 to 3V so any system that can read a voltage can interface to it. 0V represents -40 °C and 3V represents 85 °C. For evaluation use a common volt meter to read its output, and determine the temperature.
Thin Blades Prevent Root Damage
Imagine your doctor giving you a shot with a syringe used for elephants. Ouch! Your plants are no different, and they will thank you for not using giant probes to take soil temperature measurements.
We designed the blade of the sensor to be as slender as possible. It can be inserted into soil and pots with minimal disturbance to the vital root systems of your plants.
Vegetronix Modular Building Blocks
We provide modular building blocks that you need to create your garden application. With these building blocks, you can create systems that will monitor temperature, and automatically control heaters and fans.
For recording data, we carry simple low-cost data loggers, which can read up to 8 sensors. Waterproof wall mountable displays allow you to see your sensor data, near its source.
For remote viewing of data, we provide a WiFi Data Logger, which will read up to 4 sensors, and store data in the cloud. This Sensor Hub lets you remotely view your sensor data on your phone's web browser. You can even receive text messages, and email alerts.
We've partnered with the sensor cloud site - VegeCloud.com which will graph, store, and manage your water level sensor data.
Bonus Features
The THERM200 is very low power. It draws only 3mA when activated. For low power battery applications, the THERM200 can be powered briefly before reading, and then shut down, to conserve battery power.
The temperature sensor can be used with our soil moisture sensors, and together they can be used to detect the presence of ice.
Our sensors come in standard cable lengths of 2 meters, 5 meters and 10 meters. See the ordering table below.
We Want you to be Happy
Ordering is easy and low risk. Since we build our own products at our factory, all of our products are in stock. When you place your order from our website, it will ship same day from our factory, and you'll have it in your hands in just a couple of days. We ship to nearly EVERY COUNTRY in the world.
If you aren't amazed and delighted by your new THERM200 soil temperature sensor, return it for a refund within 30 days.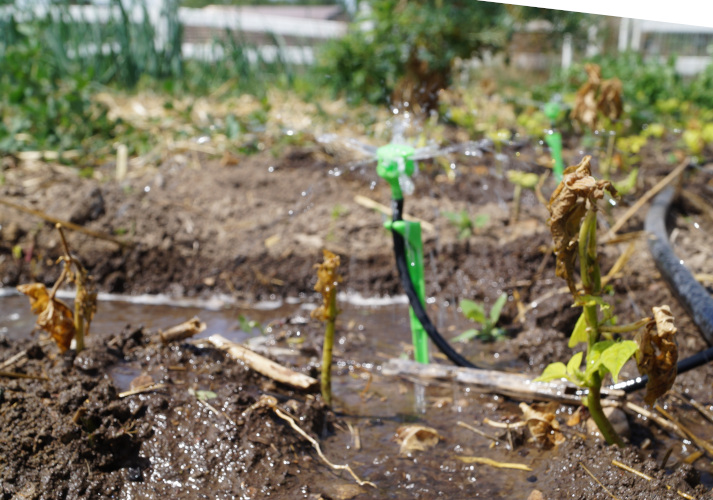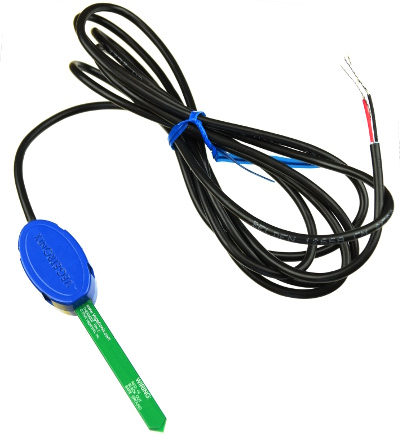 Tim's Corner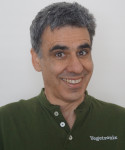 The following data are real time graphs of temperature inside and outside of my experimental cold frame grow box that I made out of polycarbonate and a wood frame. The graphs are generated by VegeCloud.com.
To monitor the temperatures we use two THERM200's connected to a VegeHub to monitor inside and outside of an experimental cold frame grow box.
From the two graphs you can see that the cold frame successfully raises the internal temperature and that it smooths out the temperature extremes. I've also set up alerts with VegeCloud.com to email me if the box gets hotter than 30°C (85°F), so that I can manually vent it.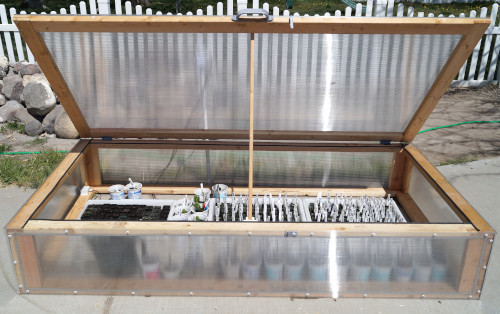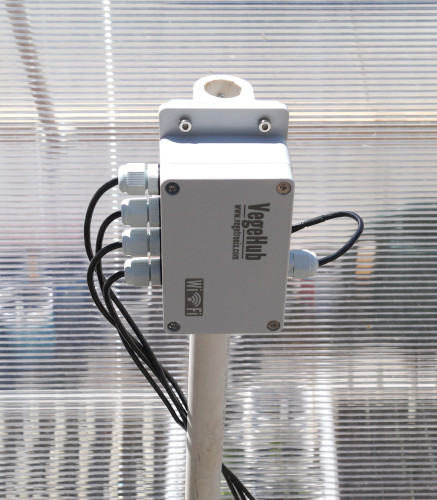 Soil Temperature Sensor Probe Pricing and Ordering Info
We ship to nearly EVERY COUNTRY on the planet, directly to you from our factory.
99% of orders ship same day.
BUY NOW FROM OUR WEBSITE STORE
Part Number
Description
Price
Purchase
THERM200-2M
Soil Temperature Sensor Probe - 2 meter Cable
Buy Now
THERM200-5M
Soil Temperature Sensor Probe - 5 meter Cable
Buy Now
THERM200-10M
Soil Temperature Sensor Probe - 10 meter Cable
Buy Now
Other Vegetronix Products of Interest
Soil Temperature Sensor Probe Specifications
THERM200 Temperature Sensor Probe

Power consumption
< 3mA
Supply Voltage

Version G and above: 3.0V to 24 VDC

Version F and below: 3.6V to 20 VDC

Dimensions
See drawing below.
Power on to Output stable
2 seconds
Output Impedance
10K ohms
Operational Temperature
-40ºC to 85ºC
Accuracy
±0.5°C
Resolution
0.125ºC
Output Voltage Range
0V to 3V linear to temperature
Voltage Output Equation
Temperature (ºC) = Vout*41.67 -40
Temperature (ºF) = Vout*75.006 -40
Cable Length
2 meters
Certifications
CE Declaration of Conformity
Soil Temperature Sensor Probe Drawing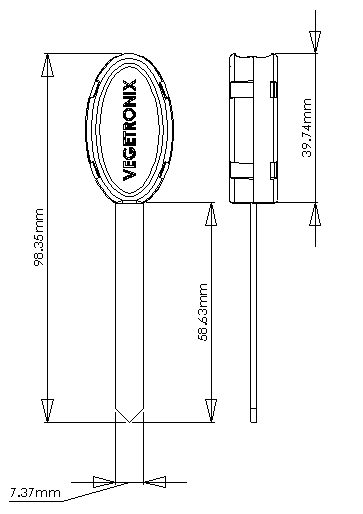 THERM200 Soil Temperature Sensor Drawing
Soil Temperature Sensor Probe Wiring Table
| | |
| --- | --- |
| Bare | Ground |
| Red | POWER: 3.6V to 20 VDC. |
| Black | OUT: 0 to 3 linear to temperature |
Soil Temperature Sensor Probe Frequently Asked Questions (FAQ)
1.
Can I use the THERM200 to measure air or water temperature?
Yes. It will tell you the temperature wherever it is placed.
2.
Where is the temperature sensing element on the probe?
The temperature sensor is inside of the blue enclosure.
3.
Do I need to bury the probe to measure soil temperature, or can I just insert the blade?
You need to bury the probe to measure soil temperature, otherwise, if you merely insert the blade, you will be measuring air temperature, not the soil temperature.
4.
Can the sensor read rapid fluctuations in temperature?
No. The probe is intended for measuring soil temperature, and typically ground soil does not change temperature rapidly. Likewise the temperature sensor has a high thermal mass because of its waterproof enclosure, and so it make take 15 minutes or more to settle after a rapid external temperature change.

This does not mean that you need to power the sensor for 15 minutes before taking a reading. It means that it takes some time for the center of the probe to reach the same temperature as the soil in which it has placed.
How to Get Started with the Soil Temperature Sensor Probe
The best way to get started is to order a few sample soil temperature sensor probes and try them out in your application. Please use our online ordering system to purchase units.
Buy Now