BH-AA - AA Battery Holders Buy Now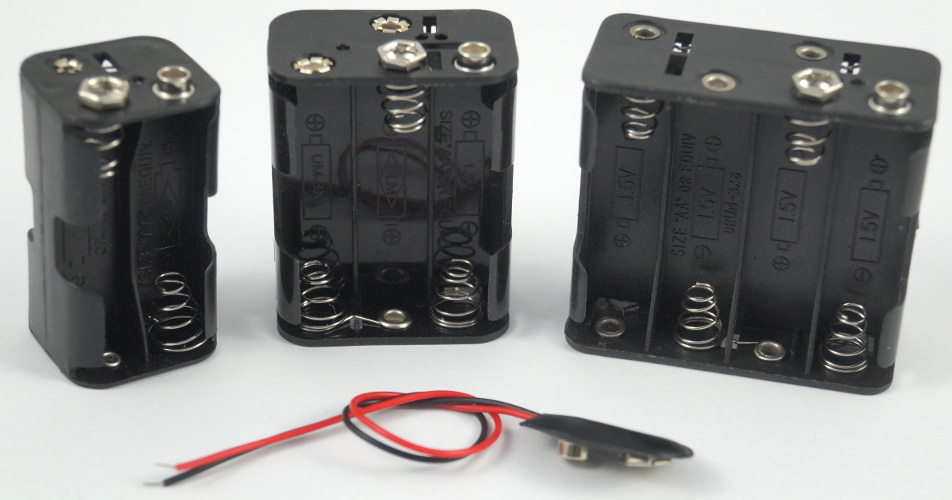 These AA battery holders come in 3 different sizes 6V (4 slots), 9V (6 slots), and 12V (8 slots). They have a 9V battery snap clip interface, and come with a clip with red and black wires, so they can be used instead of 9V batteries for applications that require more power.
They can be used with our Wifi products, data loggers, and latching relay, and other battery operated products.
Battery Considerations
Not all batteries types act the same in different environmental conditions. For example alkaline batteries do not do well in cold temperatures.
For temperature extremes Lithium Ion batteries are best, with a typical range of -40°C to 60°C. If you need off the shelf disposible batteries we recommend Energizer Ultimate Lithium batteries, which can be purchased at any grocery or hardware store. These AA batteries have a 3500mAh capacity.
The 9V pack is recommended for our WIFI products.
Optional - 3D Printed Battery Holder
For your convenience we also cary 3D-printed rain resistant battery boxes for these battery holders in 9V and 12V versions. These rain resistant boxes protect your batteries in an enclosure that breaths and lets out any acidic off-gassing from your batteries. If you like you can print out your own boxes - we freely provide the .stl files, at the above link.
Vegetronix Agricultural Building Blocks
We provide modular building blocks that you need to create your agriculture application. With these building blocks, you can create sensor and control systems for your garden, green house and farm.
We Want you to be Happy
Ordering is easy and low risk. Since we build our own products at our factory, all of our products are in stock. When you place your order from our website, it will ship same day from our factory, and you'll have it in your hands in just a couple of days. We ship to nearly EVERY COUNTRY in the world.
If you aren't amazed and delighted by your new battery holder, return it for a refund within 30 days.
VegeHub WiFi Sensor Hub - Features
Three different sizes to choose from.
9V battery clip interface.
Low cost.
Pricing and Ordering Info
We ship to nearly EVERY COUNTRY on the planet, directly to you from our factory.
99% of orders ship same day.
BUY NOW FROM OUR WEBSITE STORE
Part Number
Description
Price
Purchase
BH-AA-6V
Battery holder, 6V, 4 AA
Buy Now
BH-AA-9V
Battery holder, 9V, 6 AA
Buy Now
BH-AA-12V
Battery holder, 12V, 8 AA
Buy Now
BATTERY-BOX-6AA
Rain Resistant Battery Box for 9V battery holders. (Works with 6V 2x2 AA holders as well.)
Buy Now
BATTERY-BOX-8AA
Rain Resistant Battery Box for 12V battery holders.
Buy Now
Buy Now