Detect Open Doors and Gates with a Beam of Invisible Light Buy Now
Proximity Sensor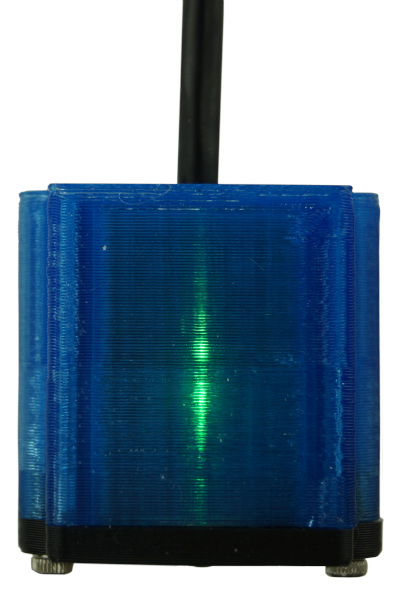 Simple 3 Wire Interface

Connects to WiFi Sensor Hubs

No Moving Parts
Easy to Mount Case
Cool Cat Eye LED

Insensitive to Visible Light

Detects Surfaces up to 1 meter Away

Detects Surfaces up to 1 meter Away
Connects to WiFi Sensor Hubs
Insensitive to Visible Light
How to Stop Garage Pirates with a Proximity Sensor
(2 Minute Video)
Proximity Sensor Features
Prevent theft and home invasion.
Sleep better knowing your garage is closed.
Detects surfaces up to 1 meter away.
Insensitive to visible light.
Cat eye LED.
Easy to mount with double sided mounting tape.
No moving parts.
Simple 3 wire interface.
Connects to WiFi Sensor Hub.
Can be powered before taking a reading for low power operation.
Low cost.
Proudly made in America.
Proximity Sensor Applications
Garage door sensor.
Detect open doors and gates.
Home and office security.
Detect passing animals.
Electronic trap or snare.
Crop Steering.
Stop Theft With a Beam of Invisible Light
Have you ever left your garage door open over night? If you're not careful, you might find some things missing in the morning, or wake up to a home invasion. The best case is that you may have a loud knock in the middle of the night from a police officer or neighbor, reminding you to close your garage door.
We developed the Proximity Sensor specifically to remind you when you've left a door open, to keep you and your property safe.
Highly Sensitive and Selective
The sensor will detect doors, gates, people, pets or other objects in its field of view. The distance depends on the size, color and surface finish of the object that you are trying to detect. For example: it can detect your hand at about 30cm (12 in), and detect a white surface or door at about 1 meter of range.
The IR sensor emits an invisible infrared beam of modulated light. It detects this light as it bounces back from objects. Its internal filter rejects visible light, so it will still work in full sunlight.
Cool Design
The case is 3D printed with transparent PLA plastic, to reveal the internal indicator LED. The result is unexpected and stunning. The LED looks like a "cat eye", because of the refraction pattern of the light through the case. This LED turns on, when no objects are detected.
The case is water resistant. We recommend that it not be directly subjected to rain. If placing this outside, make sure that it is under something to protect it.
Easily Mounted
The sensor can be placed anywhere. It comes with an adhesive tape on the back side. Merely peal off the cover on the tape and stick it to any surface.
Simple Analog Interface
The proximity sensor will interface to nearly any other device. It consists of only 3 wires: power, ground and out. The output is 0V when it detects an object, and 3V when it can't see anything.
Vegetronix Modular Building Blocks
We provide modular building blocks that you combine to create garden, home and office automation systems. With these building blocks and the proximity sensor, you can create systems that will monitor all of your doors and gates, and return status alerts through texts and emails.
We recommend using our WiFi Sensor Hub with the proximity sensor to make door and gate alert systems. The sensor hub will periodically turn on the sensor, and send an update to a cloud site, which can in turn send you a text or email message. We recommend using our partner sight www.vegecloud.com for this purpose.
The sensor hub can be battery operated. It will only power the IR proximity sensor, when taking a sample to conserve battery power.
We Want You to be Happy
Ordering is easy and low risk. Since we build our own products at our factory, all of our products are in stock. When you place your order from our website, it will ship same day from our factory, and you'll have it in your hands in just a couple of days. We ship to nearly EVERY COUNTRY in the world.
If you aren't amazed and delighted by your new Proximity Sensor, return it for a refund within 30 days.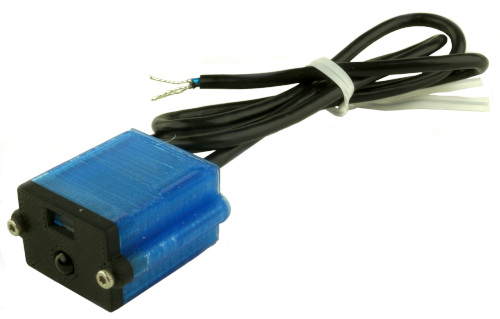 Proximity Sensor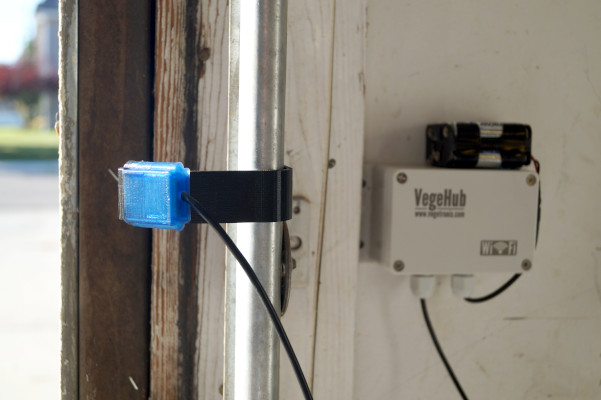 Proximity Sensor Used as a Garage Door Sensor with a VegeHub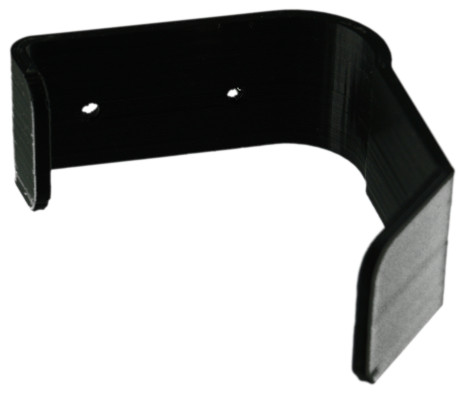 Optional Garage Door Bracket mounts to Rails
Proximity Sensor Pricing and Ordering Info
We ship to nearly EVERY COUNTRY on the planet, directly to you from our factory.
99% of orders ship same day.
BUY NOW FROM OUR WEBSITE STORE
Part Number
Description
Price
Purchase
VG-PROXIMITY
Proximity Sensor.
Buy Now
GARAGE-BRACKET
Garage door mounting bracket for the proximity sensor. Snaps on to garage door rails.
Buy Now
Contact us for volume pricing information.
Other Vegetronix Products of Interest
Proximity Sensor Specifications
Current Draw
31 mA
Supply Voltage
12V DC
Output
0V: Object detected.
3V: Not detected.
Selective Filter Frequency
38KHz
Dimensions
See drawing below.
Enclosure Material
3D Printed PLA, and Acrylic
Operational Temperature
-40C to 85ºC
Proximity Sensor Drawing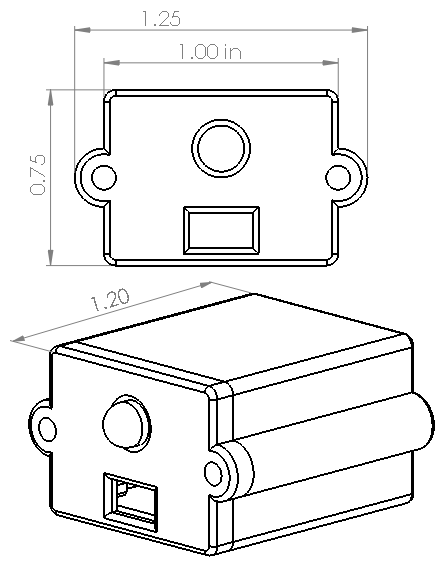 Proximity Sensor Enclosure Drawing
Proximity Sensor Quick Setup Guide
It's best to test out your sensor before you install it into a system.
Hook it up to a 9V battery or power supply. The red wire goes to the positive lead of the battery. The bare lead goes to the negative lead of the battery. Leave the black wire unconnected.
Once power is applied, point the proximity sensor away from any objects or walls. It should be at least 1 meter or more away. The green LED will light. Now place your hand in front of the sensor. The LED will turn off, indicating that it has detected an object. You have now verified that your sensor is working.
You can now hook your device into another system. For example, you could connect it to one of our WiFi Sensor Hubs to connect it to the Internet, or one of our relay boards to sound an alarm, or cause some other action.
Proximity Sensor Wiring Table
| Wire Color | Description |
| --- | --- |
| Red | +V (To positive voltage of battery.) |
| Black | Output |
| Bare | Ground (To negative voltage of battery.) |
Buy Now