Ensure Your Plants Have Enough Light Buy Now
LT150 Agricultural Light Sensor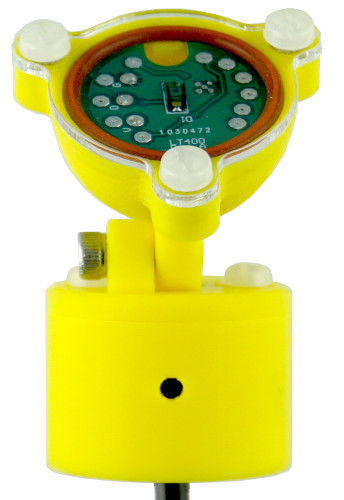 Wide View Diode Sensor

0 to 150K Lux

Compact Waterproof Case
Adjustable Yaw and Pitch Angels

Voltage Linear with Light Lux
Easy To Mount

Simple 3 Wire Hookup

Adjustable Yaw and Pitch Angels
Voltage Linear with Light Lux
Creative Ideas on How to Use a Light Sensor
(1 Minute Video)
Agricultural Light Sensor Features
Can be Easily Mounted on PVC Pipe
Compact Waterproof Case
Adjustable Altitude Angle with a Single Set Screw
Wide Angle Diode Sensor Matches the Response of the Human Eye
Measured up to 150K Lux.
Simple 3 Wire Interface Can be Read by any Decent Data Logger
Case is 3D printed ABS
Low Power, with Short Start-up Time
Agricultural Light Sensor Applications
Monitor light in your green house.
Monitor cloud shadows.
Determine if your plants are getting enough or too much light.
Control grow lights based on ambient light levels.
Long term environmental monitoring of seasonal light levels.
Can be used in non-agricultural applications such as photography.
View data on the web by interfacing it with the VegeHub
Greenhouse Automation.
Crop Steering.
Agricultural Light Sensor Details
Light, temperature and moisture are the 3 most critical parameters for plant growth. With the LT150 you'll be able to determine if your plants are getting enough light, or too much light. When used with our VegeHub you'll be able to track seasonal light patterns on your computer or phone's web browser over time.
The LT150 has a very large light range of up to 150,000 lux. As a comparison the maximum light on a bright day on the earth is 120 KLux, so the sensor will work for any outside agricultural application, or inside to detect the light levels of grow lights.
How it Works
The heart of the sensor is a diode based light sensor. This diode mimics the response of the human eye, with a peak sensitivity at 540 nm and spectral bandwidth ranging from 430 to 610 nm. The signal from the sensor is amplified and processed by a tiny but powerful microcomputer. The diode sensor has a wide angle of sensitivity (+/- 60°), so even if it isn't directly pointing at the sun it will still accurately detect light levels for your plants.
Easily Mountable
We've put a lot of thought into the enclosure design to make it easy to deploy. It includes a PVC adapter which allows it to mount to the end of 1/2" PVC tubing. You can pound the tubing into the ground, and then secure the sensor to the end with a screw. The altitude angle is adjustable with a single set screw. If you want to mount on a flat surface rather than PVC, you can discard the PVC adapter, and mount it directly to a flat surface.
If you would like to mount it to a different diameter of PVC contact us to see if we can design a special adapter for you.
Waterproof and Rugged
The enclosure is waterproof with a gasket, and potting at the cable entry point.
Low Power
The LT400 is very low power consuming only about 2mA (6mW). If used with our Voltage to 4-20mA Current Loop Translators it can be turned into a 4-20mA current loop powered sensor.
Interface Our Sensors to any System
The LT150 will easily interface to any decent data logger, or microcontroller. It uses a simple analog 3 wire interface (VCC, GND, VOUT). Customers have connected it to Arduino boards, electron particle IO boards, and a slew of common microcontrollers. The output ranges from 0 to 3V so any system that can read a voltage can interface to it. For evaluation use a common volt meter to read its output, and determine the light level.
Vegetronix Agricultural Building Blocks
We provide modular building blocks that you need to create your agriculture application. With these building blocks, you can create systems that will monitor light levels and control lights and valves based on the readings.
For recording data, we carrier simple low-cost data loggers, which can read up to 8 sensors. Waterproof wall mountable displays allow you to see your sensor data, near its source.
For remote viewing of data, we provide a WiFi Data Logger, which will read up to 4 sensors, and store data in the cloud. This Sensor Hub lets you remotely view your sensor data on your phone's web browser. You can even receive text messages, and email alerts.
We've partnered with the sensor cloud site - VegeCloud.com which will graph, store, and manage your light level data.
We Want you to be Happy
Ordering is easy and low risk. Since we build our own products at our factory, all of our products are in stock. When you place your order from our website, it will ship same day from our factory, and you'll have it in your hands in just a couple of days. We ship to nearly EVERY COUNTRY in the world.
If you aren't amazed and delighted by your new LT150 Agricultural Light Sensor, return it for a refund within 30 days.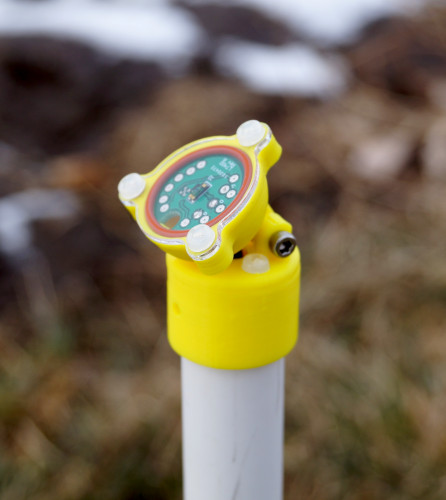 LT150 Agricultural Light Sensor Mounted on PVC Pipe.
Agricultural Light Sensor Pricing and Ordering Info
We ship to nearly EVERY COUNTRY on the planet, directly to you from our factory.
99% of orders ship same day.
BUY NOW FROM OUR WEBSITE STORE
Part Number
Description
Price
Purchase
LT150-2M
Agricultural Light Sensor - with 2 meter cable.
Buy Now
LT150-5M
Agricultural Light Sensor - with 5 meter cable.
Buy Now
LT150-10M
Agricultural Light Sensor - with 10 meter cable.
Buy Now
Agricultural Light Sensor Specifications
| | |
| --- | --- |
| Lux Range | 0 to 150 KLux |
| Average Current Consumption | < 2mA |
| Power Consumption | < 6mW |
| Operating Voltage | 3.5 to 24VDC |
| Output Voltage to Lux Equation | Lux= V*50000 |
| Peak Sensitivity | 540 nm |
| Spectral Bandwidth | 430 to 610 nm |
| warm up time | 300 miliseconds |
| Angle of Sensitivity | (+/- 60°) |
| Water Resistant | Yes |
| Enclosure Material | ABS, and Acrylic |
Agricultural Light Sensor Wiring Table
| Color | Description |
| --- | --- |
| Red | Positive Sensor Supply Voltage (3.5 to 24V) |
| Black | Sensor Output |
| Bare | Negative Sensor Supply Voltage (GROUND) |
How to Get Started
The best way to get started is to order a few sample light sensors and try them out in your application.
Buy Now