Detect Leaks and Compute Costs of Your Water Usage Buy Now
Brass Hall-Effect Flow Sensor - 1/2"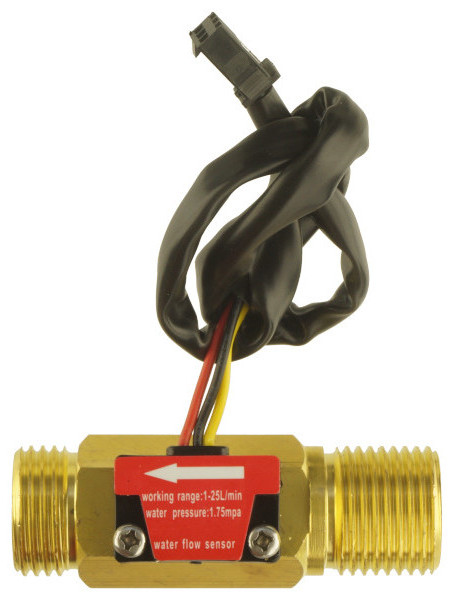 JST-SM-3P Cable Connector

Magnetic Sensing

Rugged Brass Casing
Flow Rates: 1-25L/min
High Pressure: 1.75MP (253psi)
1/2" Threads, (NPT or BSP)
JST-SM-3P Cable Connector
High Pressure: 1.75MP (253psi)
1/2" Threads, (NPT or BSP)
Features
Low Cost.
Rugged Brass Construction
Pulse frequency output is linearly related to flow rate.
Pressures up to 1.75MP (253 psi)
Flow rates of 1 to 25L/min (6.6 gallons/min)
Applications
Monitor water usage and costs.
Detect leaks and stoppages.
Get text and email alerts for out of range flow rates.
Crop Steering.
Greenhouse Automation.
Brass Flow Sensor - 1/2" Details
You can monitor your water usage with our flow sensors. This allows you to compute costs, and detect breaks and stoppages in your watering systems.
Using Vegetronix agricultural building blocks, you can create complex systems to monitor your water usage, and receive texts and email alerts when your water usage is out of normal range.
How it Works
The sensor has a small turbine inside that rotates with water flow. The turbine rotates a small magnet. The Hall-Effect sensor outside the casing, picks up the magnetic field as the magnet rotates, and converts this into a pulse each time it rotates. The output voltage signal is a nearly 50% duty cycle pulse of the same voltage as the input pulse.
While each sensor has an internal filter to protect the turbine, we don't recommend using these with overly dirty water that has particles, as the filter will get plugged up and restrict water flow.
Provided for Your Convenience
Our flow sensor are Chinese manufactured sensors that we resell for your convenience. We carry 3 sizes 1/2", 3/4", and 1". They are made of brass, and can handle pressures of up to 1.75MP (253 psi) with flow rates of 1 to 25L/min. The output is a JST-SM-3P cable to cable connector.
Vegetronix Agricultural Building Blocks
We provide modular building blocks that you need to create your agriculture application. With these building blocks, you can create systems that will monitor water usage, and automatically control watering.
Flow sensors typically have a pulse output that corresponds to flow rate. In order to read the flow rate from the sensor you need to have a logger/reader that can receive a pulse input. Since not all loggers, especially affordable ones, can read pulse streams, we've created a Pulse Rate to Voltage Translator, which will convert pulses into a linear voltage so that any logger can read the output of your flow sensor.
For recording data, we carrier simple low-cost data loggers, which can read up to 8 sensors. Waterproof wall mountable displays allow you to see your sensor data, near its source.
For remote viewing of data, we provide a WiFi Data Logger, which will read up to 4 sensors, and store data in the cloud. This Sensor Hub lets you remotely view your sensor data on your phone's web browser. You can even receive text messages, and email alerts.
We've partnered with the sensor cloud site - VegeCloud.com which will graph, store, and manage your water usage data.
We Want you to be Happy
Ordering is easy and low risk. Since we build our own products at our factory, all of our products are in stock. When you place your order from our website, it will ship same day from our factory, and you'll have it in your hands in just a couple of days. We ship to nearly EVERY COUNTRY in the world.
If you aren't amazed and delighted by your new Brass Hall-Effect 1/2" Flow Sensor, return it for a refund within 30 days.
Brass Hall-Effect 1/2" Flow Sensor Pricing and Ordering Info
We ship to nearly EVERY COUNTRY on the planet, directly to you from our factory.
99% of orders ship same day.
BUY NOW FROM OUR WEBSITE STORE
Part Number
Description
Price
Purchase
VG-FLOW-0_5-NPT
Brass 1/2" Hall-Effect Flow Sensor with NPT threads. NPT is normally used in North America.
Buy Now
VG-FLOW-0_5-BSP
Brass 1/2" Hall-Effect Flow Sensor with BSP threads. BSP is normally used everywhere but North America.
Buy Now
Contact us for pricing information.
Brass Hall-Effect 1/2" Flow Sensor Specifications
Average Current Consumption
< 3.3mA @ 5V
Operating Voltage
5 to 15VDC
Thread Style Options
1/2" NPT (For North America),
or Type G (BSP) - Non-tapered BSP 1/2"

Pulse Rate
F=11*Q, where Q is L/min
F=41.6*Q, where Q is Gallons/min
Output Signal
50%±10% Duty Cycle Pulse with Vp= Vin
Connector
JST-SM-3P (2.5mm Pitch)
Working Water Pressure
1.75MPa (253 psi)
Accuracy
±3%
Flow Range
1-25L/min
(6.6 gallons/min)
Temperature Range
0 to 60°C
Material
Brass
Brass Hall-Effect 1/2" Flow Sensor Wiring Table
| Color | Description |
| --- | --- |
| Red | Positive Sensor Input Voltage (5 to 15V) |
| Yellow | Sensor Pulse Output |
| Black | Negative Sensor Input Voltage (GROUND) |
Pulse Rate to Flow Equation
If you know the pulse rate in Hz you can convert it to the flow rate Q in L/min or Gallons/min with the following 2 equations:
Q= F/11, where Q is L/min
Q= F/41.6, where Q is Gallons/min
For example, if your sensor is reporting 55Hz. Your flow rate is 5L/min.
Usage Tips
Use generous amounts of Teflon tape, around the threads and tighten with a wrench to prevent leaks.
How to Get Started
The best way to get started is to order a few sample flow rate sensors from our website store and try them out in your application.
Buy Now