Gracefully Connect Wires to a Power Adapter Buy Now
Barrel Connector Cable Adapter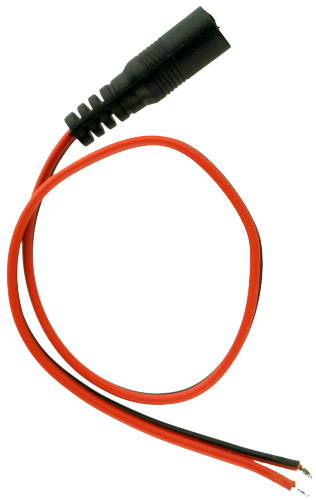 5.5 x 2.1 mm Barrel Connector

Total Length 30cm (12 in)
20 AWG Red/Black Wires
Total Length 30cm (12 in)
5.5 x 2.1 mm Barrel Connector
Features
Gracefully connect wires to the output of power adapters.
Applications
Power Vegetronix data loggers.
Power Vegetronix WiFi Sensor hubs and VegeSprinkler sprinkler controllers.
Crop Steering.
Barrel Connector Cable Adapter
While most of products are specifically design to be run from batteries, there are times when you might want them to be continuously powered. This adapter plugs into our 9V power adapters, allowing you to power devices that have a terminal block power connectors, such as our wifi hubs and data loggers.
We Want you to be Happy
Ordering is easy and low risk. Since we build our own products at our factory, all of our products are in stock. When you place your order from our website, it will ship same day from our factory, and you'll have it in your hands in just a couple of days. We ship to nearly EVERY COUNTRY in the world.
If you aren't amazed and delighted by your new Barrel Connector Cable Adapter, return it for a refund within 30 days.
Barrel Connector Cable Adapter
We ship to nearly EVERY COUNTRY on the planet, directly to you from our factory.
99% of orders ship same day.
BUY NOW FROM OUR WEBSITE STORE
Part Number
Description
Price
Purchase
BARREL-CABLE
Barrel Connector Cable Adapter.
Buy Now
Other Vegetronix Products of Interest
Specifications
| | |
| --- | --- |
| Input Connector | 5.5 x 2.1mm Barrel Connector, inner conductor positive terminal |
| Output | Red/Black Wire |
| Wire Guage | 20 AWG |
| Total Length | 30cm (12 in) |
Buy Now