Run wires into water proof boxes. Buy Now
PG7 Cable Gland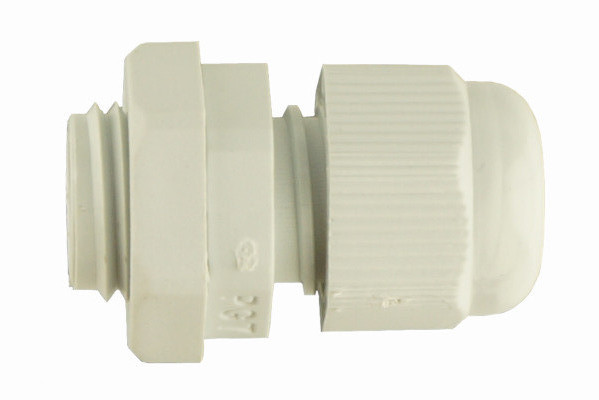 Provides Strain Relief

Threads: M12 x 1.25mm

Waterproof Rating: IP67

Cable Range: 3-6.5mm

Features
Low cost.
Provides strain relief.
Applications
Create water tight electrical boxes.
Crop Steering.
PG7 Cable Gland Details
Cable glands are used to pass cables through plates or the sides of waterproof boxes, without compromising the seal. They also provide strain relief.
The package comes with 10 pieces.
If you are drilling and then threading the hole with a tap, use a 11mm (7/16") drill bit, and thread with a M12 x 1.25mm tap. If you are passing the gland through a hole, and fastening with a nut use a 12mm (15/32") drill bit.
We Want you to be Happy
Ordering is easy and low risk. Since we build our own products at our factory, all of our products are in stock. When you place your order from our website, it will ship same day from our factory, and you'll have it in your hands in just a couple of days. We ship to nearly EVERY COUNTRY in the world.
If you aren't amazed and delighted by your new PG7 Cable Gland, return it for a refund within 30 days.
PG7 Cable Gland and Ordering Info
We ship to nearly EVERY COUNTRY on the planet, directly to you from our factory.
99% of orders ship same day.
BUY NOW FROM OUR WEBSITE STORE
Part Number
Description
Price
Purchase
CABLE-GLAND-PG7
PG7 Cable gland. Comes with 10 pieces.
Buy Now
Specifications
| | |
| --- | --- |
| Color | White |
| Threads | M12 x 1.25mm |
| Waterproof Rating | IP67 |
| Cable Range Diameter | 3mm to 6.5mm |
| Material | Nylon |
| Tap Hole Drill Bit | 11mm (7/16") |
| Pass Hole Drill Bit | 12mm (15/32") |
Buy Now