Automatically Feed and Water Your Plant With Dosing Pumps Buy Now
Variable Flow Peristaltic Dosing Pump
Low-Cost
Flow Rate of 19~100 mL/min
Anti-Vibration Rubber Feet

Compact Attractive Design

Changeable Flow Direction

Timed Fail-Safe Operation

Settable Flow Rate

Flow Rate of 19~100 mL/min
Changeable Flow Direction
Compact Attractive Design
Timed Fail-Safe Operation
How to Automatically Water Plants with a Pump
(2 Minute Video)
Peristaltic Dosing Pump Features
Settable flow rate of 19~100 mL/min.
Flow rate is settable by turning a thumb wheel.
Low cost.
Changeable flow direction.
Compact attractive design.
15 Failsafe timed outputs, or continuous operation.
Variable Flow Peristaltic Dosing Pump Applications
Crop Steering.
Provide water and nutrients to your plants.
Automatic maintenance of aquaponics systems.
Aquarium tank maintenance.
Compatible and controllable with VegetronixWiFi Hubs.
Variable Flow Peristaltic Dosing Pump Details
Automatically feed and water your plants with our low-cost variable flow dosing pumps. These pumps are perfect for controlling nutrients in aquaponics systems, and aquariums.
Easy to Set Flow Rate
The flow rate is settable from 19mL/min to 100mL/min with a simple thumb wheel in the back of the unit. The internal controller board varies the output flow rate using pulse width modulation (PWM).
Fail-Safe Operation
The pump can be set up for fail safe operation. Choose from 15 timer ranges from 10 seconds up to 1 hour can be set with a dip switch in the back. When the pump is energized it will run for that time, and then shut off, until powered again. The fail safe operation can be bypassed such that whenever power turns on, the pump is also on.
Rugged Attractive Case
The case is 3D printed environmentally friendly PLA.
Can Be Controlled via WiFi
If you would like to automatically control your pump via Wifi. We recommend using it with the Vegetronix WiFi Relay Hub.
Vegetronix Agricultural Building Blocks
We provide modular building blocks that you need to create your agriculture application. With these building blocks, you can create sensor and control systems for your garden, green house and farm.
We Want you to be Happy
Ordering is easy and low risk. Since we build our own products at our factory, all of our products are in stock. When you place your order from our website, it will ship same day from our factory, and you'll have it in your hands in just a couple of days. We ship to nearly EVERY COUNTRY in the world.
If you aren't amazed and delighted by your new Peristaltic Dosing Pump, return it for a refund within 30 days.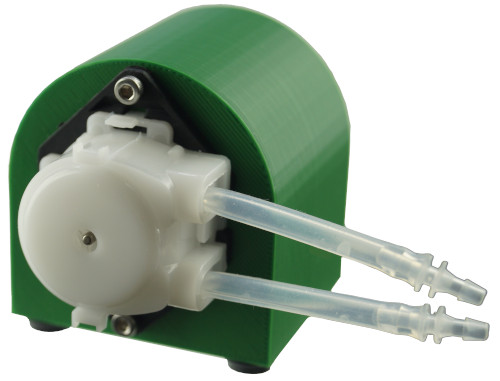 Variable Flow Peristaltic Dosing Pump
Peristaltic Dosing Pump Pricing and Ordering Info
We ship to nearly EVERY COUNTRY on the planet, directly to you from our factory.
99% of orders ship same day.
BUY NOW FROM OUR WEBSITE STORE
Part Number
Description
Price
Purchase
VG-PERISTALTIC
Variable Flow Peristaltic Dosing Pump
Buy Now
Contact us for pricing information.
Variable Flow Peristaltic Dosing Pump Specifications
| | |
| --- | --- |
| Flow Rate | 19~100 mL/min |
| Input Power | 9V to 12 V 400mA |
| Voltage | 12 V |
| Input/Output Port Diameter | 3.8mm Barb |
| Tube Material | Silicone - 3mm inner diameter, 5mm outer diameter |
| 15 Timer Ranges | 10s, 20s, 30s, 40s, 50s, 1 min, 1.5 min, 2 min, 3 min, 4 min, 5 min, 10 min, 20 min, 30 min, 1 hr |
| Enclosure Material | 3D printed PLA |
Timer Setting Switches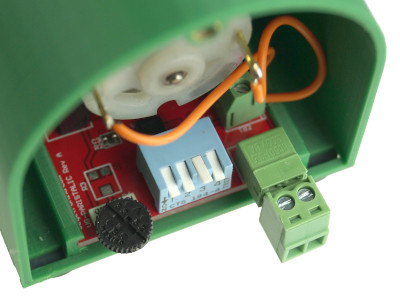 Variable Flow Peristaltic Dosing Timer Switch Configuration
| Timer | Switch Pattern (D=Down, U=Up) |
| --- | --- |
| Always On | D,D,D,D |
| 10s | D,D,D,U |
| 20s | D,D,U,D |
| 30s | D,D,U,U |
| 40s | D,U,D,D |
| 50s | D,U,D,U |
| 1 min | D,U,U,D |
| 1.5 min | D,U,U,U |
| 2 min | U,D,D,D |
| 3 min | U,D,D,U |
| 4 min | U,D,U,D |
| 5 min | U,D,U,U |
| 10 min | U,U,D,D |
| 20 min | U,U,D,U |
| 30 min | U,U,U,D |
| 1 hr | U,U,U,U |
How to Get Started
The best way to get started is to order a few sample Variable Flow Peristaltic Dosing Pumps from our website store, and try them out in your application.
Buy Now